Date added: 19 March 2009
Weave the Winning Numbers!
Members of TWIGS put together a five-foot giant lottery-ball
Giant willow Lottery Balls will be popping up across the South West this week, as part of a special willow weaving UK-wide roadshow.
This unique project is the way of saying thank you to Lottery players, who raise £25 million a week for Good Causes projects across the UK, which make a huge difference to people, like those with mental health problems, who benefit from the garden therapy classes at TWIGS (Therapeutic Gardening Work in Swindon).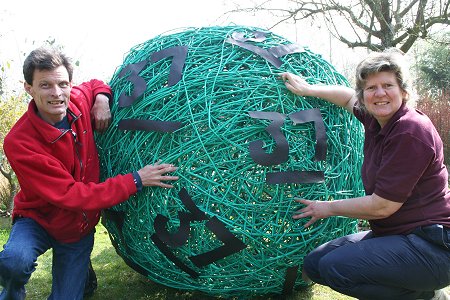 Julian Holland and Steph Perry at TWIGS
who helped create this five-foot willow Lottery-ball as part of the special willow weaving UK-wide roadshow

1 in 4 people in the UK suffer with mental health issues and members of the TWIGS project credit it with helping to turn their lives around.

Julian Holland, 45, struggles to feel comfortable in social settings and suffers from a virtually debilitating lack of self-confidence.

However, since he discovered TWIGS, eight months ago, he has already started to integrate with small groups at the project and is learning new skills to cope with his disability.
"There's more to this project than digging - there's a great community spirit here; everyone is treated as a person not as an illness," commented Julian.
"Before I came to TWIGS I struggled to motivate myself even to leave the house in the mornings, but now I get real pleasure from tasks like the willow weaving, which really helps with my depression."
In the last year alone, over £118 million of Lottery funding has been invested in arts, sports, heritage, education, environment, health, charity and voluntary projects across the South West.