Date added: 24 March 2009
What a find!
Swindon artist celebrated on Antiques Roadshow

Two 'lost' works by a renowned Swindon artist - each worth at least £6,000 - have come to light, thanks to The Antiques Roadshow.

Leslie Cole was born in Swindon on August 11, 1910, and was to become best known as an official artist of the Second World War - and one of the first Allies to witness the full horror of Nazi death camps after liberation.

But it has also emerged that Cole married a key player in one of the 20th century's biggest sex scandals.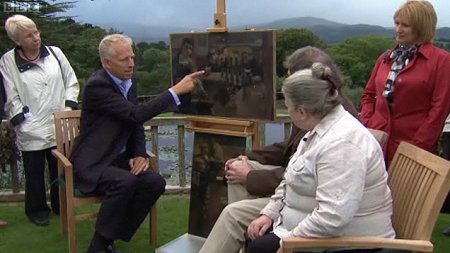 For insurance purposes only, of course:
two pictures from Swindon artist Leslie Cole came to light on The Antiques Roadshow shown on 22 March 2009. Art expert Rupert Maas (pictured) valued both at £6,000 each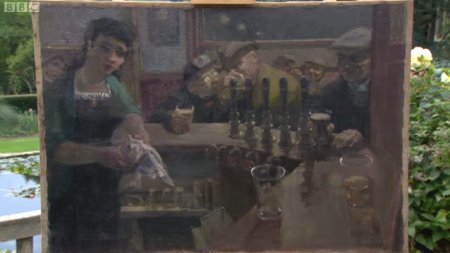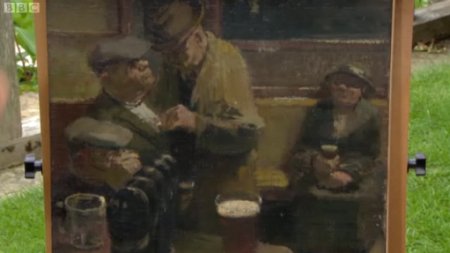 As a young man, he studied at Swindon College and the Royal College of Art, where he gained a diploma in mural decoration, fabric printing and lithography, before teaching at Hull College of Arts and Crafts in 1937.

His pre-war paintings and drawings featured railway workers in Swindon, including a lithograph of furnace workers in 1939, and, during the early stages of the war, he produced a series of works showing then secret factory work for the war effort.

These included a 1941 painting showing a team at work on the assembly of landing craft - almost certainly in Swindon Railway Works - and women working on aircraft wings - probably at a factory in the Swindon area.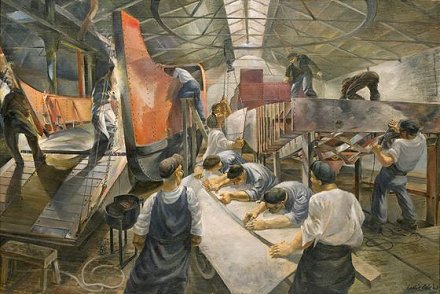 Leslie Cole's painting of a landing craft being built at the
GWR Works in Swindon during world war 2
(c) National Maritime Museum, Greenwich, London.
Reproduced with permission

Some of these local studies were sent as examples of his work when he applied to the authorities to be a war artist, and he was eventually accepted as an official war artist by the Royal Marines.

His first posting was to Malta, where he recorded the end of the siege of the island. He also covered the invasion of Italy by the Allies, fighting in Greece, the defence of Gibraltar and the Normandy offensive following D-Day in June 1944, and he later visited Burma, Singapore and beyond.

In his work he was said to have been able to 'deal unflinchingly with violence and death', and the reputation he had gained for this earnest approach to the job led him to be one of four official artists chosen to be present at the first liberation of a major Nazi concentration camp.

His images from the camp at Bergen-Belsen are his most explicit and chilling as he captured the hellish conditions, including the deaths of those for whom the liberation by the Allies proved too late.
Recording the atrocities of war
Leslie Cole's official war paintings from the
Nazi concentration camp at Belsen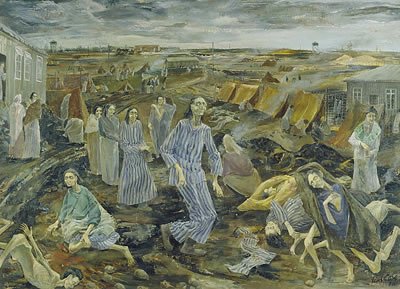 the compound for women, 1945 oil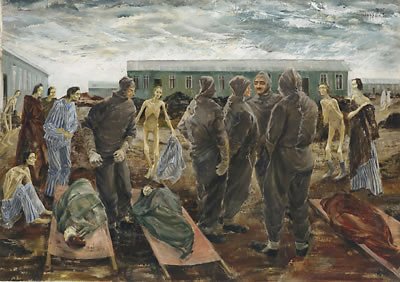 Sick Woman and the Hooded Men of Belsen, 1945 oil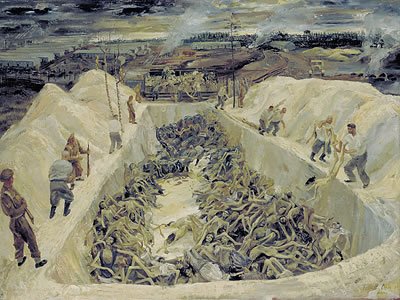 One of the Death Pits, Belsen
SS guards collecting bodies, 1945 oil

In a commentary to one of his Bergen-Belsen paintings, he wrote:
'The camp is large - 12 sq miles and dividied into compounds like chicken runs, with huts bare of any furniture or conveniences. The huts normally accommodate 50, but as many as 400 were put in. The women's compounds were the most tragic and horrible, and the worst cases of disease were located here, both in number and intensity.
'During my visit, the victims were still dying in the open and the woman in the centre of the picture collapsed while I was drawing. There are many bodies lying about, clothed and unclothed, and these were left as the British MOs had not enough personnel to check if death had set in.

'If the body disappeared at night, it was alive.'

Cole continued to paint and teach after the war, but according to a forthcoming biography by Malcolm Yorke, to be published by The Fleece Press later this year, there is a remarkable untold chapter of Cole's marriage to the key witness in a 1930s sex scandal.

The book will also claim his harrowing wartime experiences led him to drink heavily, before a slow decline and his death in 1976, aged just 66.

But Cole continued to produce brilliant work in the 1950s - and two of these paintings, both showing pub scenes from London in the 1950s, turned up when The Antiques Roadshow visited Bodnant Garden, North Wales.

In the programme, broadcast on Sunday, a couple bought the paintings in a Liverpool market in the 1960s 'for old money - seven shillings and sixpence', but paintings expert Rupert Maas described them as 'terrific' and Cole as 'a very celebrated war artist', adding that he would be 'amazed' if they didn't fetch £6,000 each.
Cole's war paintings are even more valuable, and are included in some of Britain's most important art collections, including the Imperial War Museum, which holds 25 of his works, the National Maritime Museum and the British Council.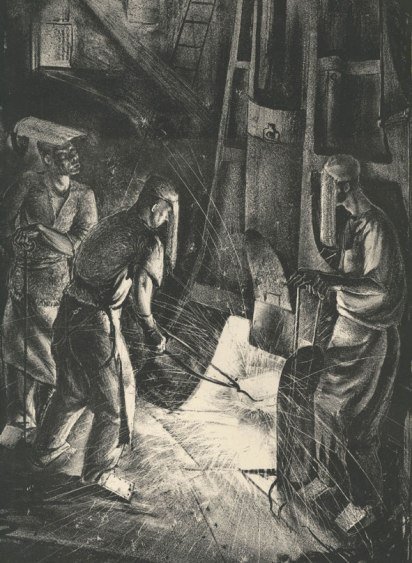 Workmen at a steam hammer 1939:
from the Wakefield Collection, courtesy of the British Council
The untold story of Cole's marriage

The untold story of Leslie Cole's marriage in August 1938 adds a remarkable footnote to the story of his life. According to Leslie Cole, Official War Artist, written by Malcolm Yorke and due for publication by The Fleece Press, Cole's bride called herself Brenda Harvey, but her real name was Barbara Price.

Six years before the wedding, which took place in Kensington, Price had been the star witness in what one newspaper called 'the trial of the century', in which Harold Davidson, Rector of Stiffkey, a sleepy Norfolk coastal village, was accused of immorality.

The Bishop of Norfolk accused him of scandalous liaisons with prostitutes in London's Soho, and he was eventually found guilty and defrocked.

The trial became a national scandal, but Price, who had instigated it with 14-page letter to the Bishop which claimed 'I know a lot of things about him that may help you', quietly disappeared after giving evidence for three days.

It now seems that she became an acquaintance of Dylan Thomas and then an artist's model, before meeting and marrying Cole.

The couple remained married until Cole's death in 1976, but never had children. Brenda (or Barbara) Cole lived until 2003.

As for the errant rector, he met a suitably bizarre end, five years after his trial, when he was mauled to death by a lion at a fairground in Skegness.
The Antiques Roadshow episode featuring Leslie Cole (approx 48 mins into the programme) is available to view on the BBCi player until 29 March 2009. Link below.
70 Years On
Crowds gather in Swindon to mark the 70th anniversary of VJ Day - SEE PICTURES

17 August 2015

Swindon Wartime Weekend
Step back in time to the Second World War at the Swindon & Cricklade Railway - 13 & 14 SEPT

D-DAY
77th ANNIVERSARY: Watch our films showing how Swindon played its part on the 6th June 1944 - WATCH VIDEOS