Date added: 31 March 2009
Win £250 worth of Vouchers
Win with The Parade Swindon this Easter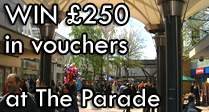 £250 worthof vouchers
up for grabs
The Parade Stores are offering a lucky reader a chance to win £250 vouchers of your choice to spend in stores this Easter.

And, if you're not sure what to buy, we've got some floppulous ideas below too!
There's also Free entertainment for the family on Good Friday 10 April, with a one-day 'petting zoo' between 11am and 3pm.

Get a close encounter with the real thing, touch and in some cases feed a range of animals under the shopping centre's canopy outside Debenhams.

As well as rabbits, don't miss the chance to meet guinea pigs, bunnies and new Easter chicks too.
FREE - Children's Easter Egg Hunt

Good Friday - 10th April & Easter Saturday 11th April, 11am - 2pm at The Brunel shopping centre in the town centre, come and meet the Easter Bunny - and get your FREE Easter treat.

There's also a chance to win an annual family pass to some of the UK's top attractions on our Easter Egg Hunt.
We've rounded up a few bunny ideas that the kids will sure to go hopping mad about!
Chocolate Bunny (250g) Thorntons, £6.50 including free icing with a name
Kinder Bunnies Superdrug, £1.29
Rabbit Sequin Mask Accessorize/Monsoon, £2.50
Cute Animal Ring Set (bunny and friends) Accessorize/Monsoon, £4
All you have to do is answer the easy question below
What animal is associated with Easter?