Date added: 01 April 2009
Magic memorial for Don Rogers
Town star statue set for Magic Roundabout
It's forty years since his and Swindon Town's greatest triumph - winning the League Cup at Wembley in 1969.
And now Swindon will be paying the ultimate tribute to former Town star Don Rogers - a statue on the Magic Roundabout.
The plan follows on from the success of the 50ft Christmas tree that stood at the centre of Swindon's famous road system four months ago, and plans are already in place for a similar size bronze figure of Rogers in his heyday to be erected permanently.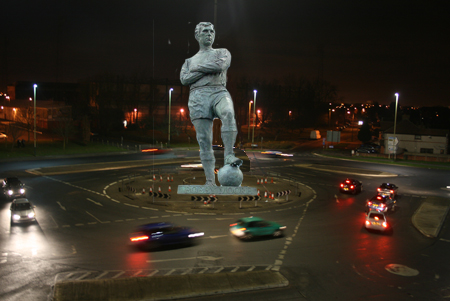 an idea of how the new Don Rogers statue will look
"Don was well known for his dribbling skills and going round players, so it's fitting that we should place the statue on the Magic Roundabout right next door to the County Ground," said a spokesman.
"Forty years on from '69, it really will be a magic memorial."
The decision comes a year on from Swindon Town naming their former Nationwide stand the Don Rogers stand in a similiar tribute to the Robins' legend.
The statue will be designed by the same sculpture who created the Brian Clough bronze, which was unveiled last year and which is already proving hugely popular as a tourist attraction in Nottingham town centre. A similar bronze of Bobby Moore also stands outside the new Wembley Stadium.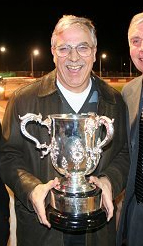 Rogers, seen here holding
It is understood that the cost of the £100,000 project is being jointly met by donations from Swindon Town Football Club - possibly through the sale of striker Simon Cox to Newcastle United - and Swindon Borough Council.
"News of this has come as a complete surprise," commented a shocked Don Rogers, who still lives in Swindon and runs a sport shop in Faringdon Road.
"It was an honour to have a stand at the County Ground named after me last year, but this is something else!"
An artist's impression of the Don Rogers statue can be seen in the main entrance of Swindon Town Hall until noon today.
Members of the public are being given the opportunity to comment on the idea via the email link below.
We Won This Once!
Swindon Town legends Don Rogers & Chris Kamara enjoy a moment & memories with the Carabao Cup - SEE PICS

23 February 2018

40 Years Of Magic!
Swindon's world famous roundabout is 40 years old this month - TELL US YOUR MEMORIES

12 September 2012

Brian Clough
10 YEARS ON: "Now look here, young man" - Swindon Town's connection to old big 'ed...

A Day to Remember
50 YEARS AGO!Memories of Swindon Town's greatest day - the 1969 League Cup Final - 15 MARCH 1969 - WATCH VIDEOS