Date added: 05 April 2009
You shall go to LA!
Frantic fundraising keeps dream dance alive
A round-the-clock fundraising effort by all those involved at Bobbi's Dance Academy has secured enough money to send 14 young Swindon dancers to the USA after all.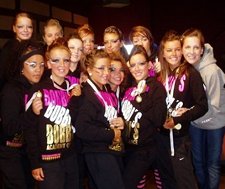 members of the Bobbi's Academy
The teenagers, all aged between 13 and 18, plus three adults will fly to Los Angeles tomorrow after more than £11,000 was donated by members of the public and local businesses after a weekend of furious phone calling and appeals.
"The response has been amazing," said Carol Morris, who has helped lead the fundraising effort.
"Three days ago we were in despair, but through the generosity of a huge number of people, we've finally got enough to pay for flights and accommodation and we can go, albeit with only three adults."
"Thank you to everyone who has helped us."
The De Vere hotel and SwindonWeb were just some of the Swindon firms who chipped in.
Due to fly out last Thursday to take part in an international dance excellence competition in California, a party from the Bobbi's Academy of Dance arrived at Heathrow to find no flights had been booked. The tearful dancers then returned to Swindon fearing their dream trip was over.
Academy treasurer Amanda Williams was later arrested and charged with stealing the £30,000 raised for the expedition. The 51-year-old remains in Swindon Police custody.
Swindon Police question missing person Amanda Williams over dance cash
The search for Amanda Williams, who went missing from her Westlea home yesterday in mysterious circumstances, has ended after she was found, and then arrested, in Dorset this morning.

Swindon Police are now questioning the 51-year-old at Gablecross Police station relating to the theft of money from her daughter Bobbi's Academy of Dance.
The possible fraud came to light when dancers from the Academy were due to travel to Los Angeles to represent England in a world-wide competition only to arrive at Heathrow to find no flights were booked.
Various fundraising activities throughout 2008 had raised nearly £30,000 to make the dream trip come true.
It has also been revealed that Ms Williams was convicted of fraud in 2004 at Swindon Crown Court for stealing £100,000 from a local firm.
Missing person: appeal for information
Have you seen Amanda Williams from Westlea?
Swindon Police are appealing for information from the public to help locate Amanda WiMissing person: appeal for informationlliams, a missing 51-year old-woman from Stoneybeck Close in Westlea.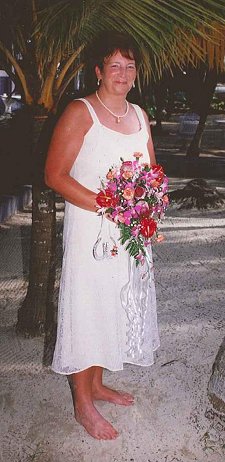 Amanda, known as 'Mandy', was last seen leaving her home at 09:30 yesterday (Wednesday 1
st
April 2009) in her car, a red Renault Laguna, registration T731 KOW.
Amanda is white, 5 ft 4 inches tall, of medium build with short brown hair and was last seen wearing a white fleeced sweatshirt and dark coloured leggings. She was carrying a large brown handbag with a large key ring with the letter 'M' on it in green diamante.
Police were contacted by Amanda's family who were concerned for her welfare and they say it is 'out of character' for her to go missing.
A large number of officers are currently involved in the search for Amanda and have been working closely with colleagues in other forces to help locate her.
Police activity has included a thorough check of her home address, which is normal in such circumstances, plus checks have also been made with local bus services, the railway station and taxi firms.
Anyone with information on the whereabouts of Mandy or who believe they may have seen her are asked to contact Wiltshire Police immediately on 0845 408 7000 or Crimestoppers on 0800 555 111 where information can be left anonymously.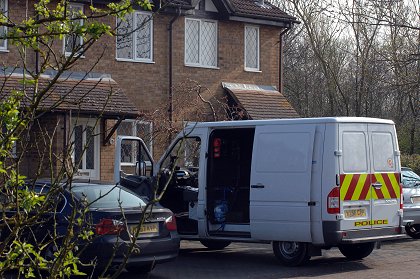 Police at the home of Amanda Williams