Date added: 14 April 2009
Animal Magic
Town centre hosts petting zoo for Easter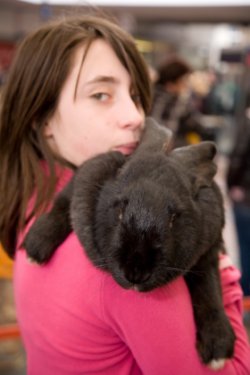 petting zoo on Good Friday
in the town centre
Swindon families had the chance to make a date with some animal celebrities this Easter!
The Parade hosted a special one-day petting enclosure under the shopping centre's canopy, outside Debenhams, on Good Friday, featuring some real life stars.

The animals – a mini Shetland pony, goats, rabbits, guinea pigs, chickens, lambs and even a giant tortoise – were supplied by Animal Dramatics, a Reading-based firm which has provided animals for various TV programmes, from Chucklevision to Coronation Street, and movies such as Lock, Stock and Two Smoking Barrels.

There was also face-painting in animal designs, and the chance to win a £20 voucher, redeemable in The Parade shops.

"It was great fun to have the animals around," commented Brian Morris, manager of The Parade.
"Not only was it very educational for the children, it was a great way to get everyone in the mood for Easter celebrations.
Petting Zoo picture gallery

Animal Magic at the Parade in the town centre - 10/04/2009