Date added: 21 April 2009
Flying high price to pay
Swindon-built Spitfire fetches £1.6 million
As gentlemen's toys go, no one would deny it was a lot to pay. But for financier Steve Brooks it was worth every penny when he bought a Swindon-built Supermarine Spifire at auction yesterday.
£1.58 million, the price for a piece of aviation history that first flew on what is now the test track of the Honda plant in South Marston, when in 1944 it was part of factory that produced 121 Spitfires for service during the second world war.
It was the first fighter of its kind to go under the hammer for over 20 years.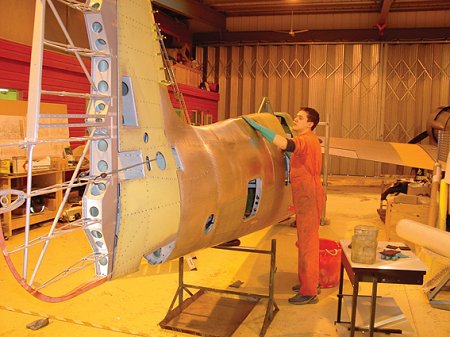 Spitfire model number SM520 being restored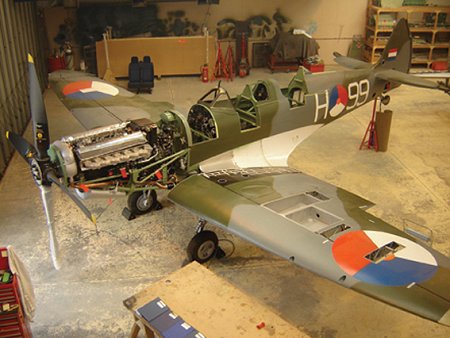 Manufactured after the famous Battle of Britain, the plane, a Vickers-Supermarine Mk IX Spitfire, was first delivered to nearby RAF Lyneham on 23 October 1944 before being sold to the South African Air Force in 1948.
After leaving service, it was saved from a Cape Town scrapyard in the late 1970s before eventually being completely restored - and modified as a two-seater - by Classic Aero Engineering based at Thruxton.
70 Years On
Crowds gather in Swindon to mark the 70th anniversary of VJ Day - SEE PICTURES

17 August 2015

The Christmas Truce
You've probably seen the advert - but Captain Mervyn Richardson from Purton was really there...

15 November 2014

Swindon Wartime Weekend
Step back in time to the Second World War at the Swindon & Cricklade Railway - 13 & 14 SEPT

Marking The Start Of WW1
100 YEAR ANNIVERSARY: Schoolchildren gather in Wharf Green before 28 June - the day that sparked the Great War...

26 June 2014

D-DAY
75th ANNIVERSARY: Watch our films showing how Swindon played its part on the 6th June 1944 - WATCH VIDEOS

Bravery Recognised
Proud evening as Swindon soldiers are awarded Operational Service Medals for Afganistan Tour - WATCH VIDEO

12 March 2014

Field of Remembrance
Lydiard Park hosts the Royal British Legion's tribute to our brave Serviceman & women - 08-17 NOV

Radnor Street Remembrance
Swindon honours its war graves at much-neglected cemetry - GALLERY + PICS FROM OTHER REMEMBRANCE DAY CEREMONIES

11 November 2012

Strictly Poppies
Come Dancing stars perform at the opening of Remembrance Field at Lydiard Park - GALLERY

09 November 2012

Swindon Bombing
70 years ago - 20 OCT 1940 - the day the Luftwaffe tragically started targeting Swindon...

Catsbrain Farm
Bombs, bikes and bi-planes - memories of Eric Barnes, possibly Swindon's last owner-farmer...

02 October 2010

Chiseldon Camp
50 years on since the last soldiers left, we look back at the Swindon army base which helped win two world wars - and welcomed the first American GIs to Britain...

Life's Real Heroes
100 YEAR ANNIVERSARY: We pay tribute to Swindon's heroes of the Somme + EVENTS

Planes, Trains & Automobiles
How Swindon helped pioneer some of the most incredible aircraft ever built incl. Spitfires, Swifts & Concorde...

Swindon and World War One
Lest We Forget 101 Years On: our 4-part chronicle of the role Swindon people played in the Great War #therebutnotthere

RAF Blakehill
Cricklade airfield which played a crucial role in D-Day and Arnhem - WATCH VIDEO

VE Day in Swindon
The greatest e-VE-r party. How Swindon celebrated the end of WW2 in Europe - 74 YEARS AGO...