Date added: 23 April 2009
Travel information
How to get to the BBC Big Weekend
So, you've been one of the lucky ones to have a BBC Big Weekend ticket - all you have to do now is get there!
Never fear though - see below for all the information you need to get to Lydiard Park.
If you're travelling by train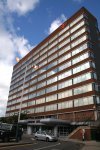 Swindon train
station
If you're arriving by train you will be directed to the nearby Swindon Bus Station - here you will find a dedicated shuttle bus which will take you to the event.

The same shuttle bus will be available at the end of the event to return you to the Swindon Bus Station if you plan to travel back on the train - but if you're in the party mood check out our nightlife guide for all the best bars and clubs!
If you're travelling by a public bus route - catch a bus that is heading for West Swindon.
From there it will be clearly signposted on how to get to the event.
See the Thamesdown Transport website -
click here
Getting a lift

There's going to be a designated drop-off point at the Link Centre so look out for the signs.
Once you have been dropped off it will be clearly marked how to get to the event.
On foot you're looking at a 15 to 20 minute walk - so if it's a hot day - don't forget to wear sunscreen.
Getting there by taxi
Again there will be a drop-off point for taxis.
The major taxi firm in Swindon is V Cars.
By bicycle
Why not if it's a nice day!
Event-goers arriving by pedal cycle should use the existing cycle network to the event site at Hook Street.

There will be bicycle racks available for your use.


From Swindon town centre
See red link above.

Once you have your tickets you will be allocated a car park.
Once you have parked your vehicle you will be marshalled into either the ex-Post Office site adjacent to Fleming Way and the Tri Centre Office complex to pick up wrist bands and then to access the bus pick up at the Bus Station.
The wrist bands will also act as your bus ticket for the return journey - so don't loose it!
BBC Big Weekend
A year on from the BBC Big Weekend in Swindon - so reminisce with our videos and galleries...