Date added: 24 April 2009
BBC Big Weekend tickets
Information on those who have registered for tickets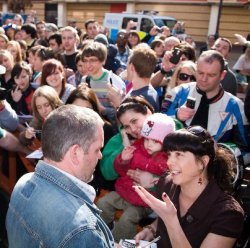 Chris Moyles at the launch of
the BBC Big Weekend
The tickets for BBC Radio 1's Big Weekend in Swindon this year have now been allocated and everyone who applied should have been emailed to tell them if they have been lucky or not.

If you still haven't heard don't forget to check your junk and spam mail folders as sometimes the email gets sent directly to here.
If still nothing you can check on the Radio 1 website with your registration number to see if you have been allocated some.

Tickets to those who have been allocated them are sent automatically - so, if you do have a ticket, you will not miss out if your email has got lost.
Check your spam!
Demand for tickets this year was again massive with over 350,000 people applying for tickets.
60% of this year's tickets were allocated to Swindon, 30% to the South West, 15% to Swindon's surrounding villages, and 5% to the rest of the country.

But, please don't be too disappointed if you weren't one of the lucky ones - there will be extensive coverage across the weekend on Radio 1, BBC TV, red button and of course on SwindonWeb!

Please note that no tickets will be available on the day and you should not turn up at the site without a valid ticket.
BBC Big Weekend
A year on from the BBC Big Weekend in Swindon - so reminisce with our videos and galleries...