Date added: 27 April 2009
Twin Towns Tandoori
Curry Place banquet for Swindon and Salzgitter Mayors.
There was a special dish on the menu at The Curry Place in Rodbourne for the visit of Swindon Mayor Steve Wakefield and his Salzgitter counterpart Frank Klingebiel.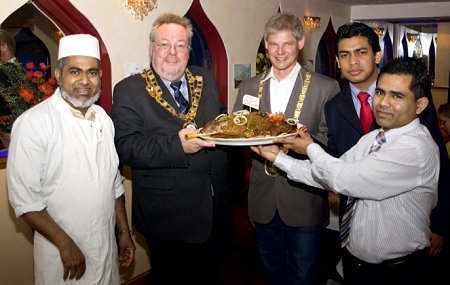 Mashuk Ali, Steve Wakefield, Frank Klingebiel,
Beeteshoke De and Mahmod Ali
Twin Towns Special Kurzee Lamb, the creation of chef Mashuk Ali, who cooked a lunch banquet for the two dignitaries as part of a week of twinning celebrations.
"It was an honour to welcome them to The Curry Place" said owner Mahmod Ali, "and to create the dish was the least we could do."
Salzgitter was the first town to be twinned with Swindon, an official link that has now been going since 1975.
Other twin towns include:

Ocotal, Nicaragua, since 1990
Toruń, Poland, since 2003
Chattanooga, USA, since 2006
The Big Bang Curry
Special Curry Place feast on eve of 'the end of the world' (but they are still taking weekend bookings, just in case!)...

20 December 2012

Jah-Fraizi, Sir?
We've seen it all now.... It's a curry with the X-factor in Rodbourne!...

06 December 2012

Twin Town Tandoori II
The spice is right again for Salzgitter and Swindon mayors at The Curry Place...

09 August 2011

Match of the Delhi
Curry Place restaurant raises money for African footy charity…

21 July 2009