Date added: 07 May 2009
Getting into gear for the Big Weekend
What's the old saying about buses? Wait for one, then they all come along at once!
Well this weekend it is truer than ever!
Swindon's two main bus companies, Thamesdown Transport and Stagecoach, are getting into gear to shuttle ticket holders to and from the Radio One Big Weekend event at Lydiard Park on Saturday and Sunday.
Thamesdown Transport managing director Paul Jenkins said: "There's a real buzz in Swindon about the Big Weekend, and we're looking forward to playing our part in getting those ticket holders who aren't walking or cycling to Lydiard Park and back as conveniently and efficiently as possible."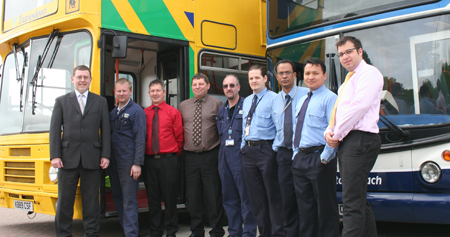 Putting the wheels in motion:
(l-r) Paul Jenkins, MD of Thamesdown Transport, Darren Powles, Nigel Peart, Nigel Mason, Dale East, Phillip Hilliard, Subash Naique, Lachhuthan and David Lee
The free shuttle services will
only
be available to Big Weekend ticket holders.
Where can I catch one to Lydiard Park?
Two separate shuttle bus routes will run out to Lydiard Park during the day – one from the town centre bus station, and one from the Wroughton Park & Ride site off Croft Road.
In the evening all shuttle buses will follow a common return route serving both Fleming Way and the Wroughton Park & Ride.
Shuttle buses will start from each location at 9am and run every 15 minutes up to 2pm, then every 30 minutes to 5pm.
Shuttle buses will run non-stop to Whitehill Way and drop off passengers near the turning for Windmill Hill Business Park. The journey time should be about 15 minutes depending on traffic conditions. It is about a three-quarter mile walk from here along Hook Street to the music festival site.
What time will the buses leave after the event?
Shuttle buses will return from Whitehill Way from 7.30pm. The last shuttle bus will leave at 11pm.
Are there buses as normal to West Swindon for non-ticket holders?
Yes. Thamesdown bus services 1 and 1A will run as normal between the town centre and West Swindon. Normal fares will be charged on these services.
For ticket holders, in addition there will be extra free evening buses from the Link Centre back into town. These will follow the normal Service 1 route via Westlea.
How many buses are available to ticket holders?
All 20 of Thamesdown's double-deckers will be in use on the shuttle bus services, along with 19 from various Stagecoach bus depots and eight from local bus firm Kinch's of Minety.
For more information please see the Thamesdown Transport website below
BBC Big Weekend
A year on from the BBC Big Weekend in Swindon - so reminisce with our videos and galleries...