Date added: 22 May 2009
One is impressed!
Princess Royal opens the new central library
The new central library in Swindon received an official Royal seal of approval today with the visit of HRH The Princess Royal.
Her Royal Highness was escorted around the award-winning building by Swindon council leader Rod Bluh and architect Nic Newland, and took time to speak to staff and the many other people involved in providing what the princess described as a 'library everyone in Swindon should be immensely proud of'.
Princess Royal in Swindon gallery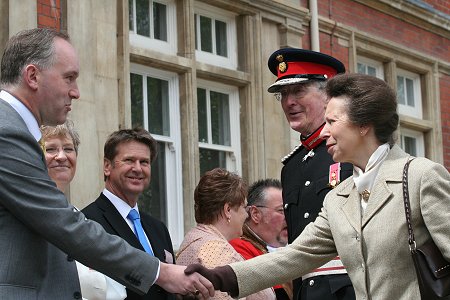 Welcome to Swindon ma'am:
Council leader Rod Bluh greets The Princess Royal, alongside (from left) Swindon MP Anne Snelgrove, Council chief executive Gavin Jones, the mayor and mayoress and the Lord Lieutenant of Wiltshire, John Bush

HRH Princess Royal officially opens central library - 22/05/2009
Diana in Swindon
We look back on the Princess's visits to town - both official & unofficial - WATCH VIDEO

30 August 2017

It's Swindon, Ma'am!
QUEEN ELIZABETH II: In her amazing 70 years on the throne, here's the 4 occasions Her Majesty officially stopped off in Swindon...

Bravery Recognised
Proud evening as Swindon soldiers are awarded Operational Service Medals for Afganistan Tour - WATCH VIDEO

12 March 2014

Radnor Street Remembrance
Swindon honours its war graves at much-neglected cemetry - GALLERY + PICS FROM OTHER REMEMBRANCE DAY CEREMONIES

11 November 2012

Strictly Poppies
Come Dancing stars perform at the opening of Remembrance Field at Lydiard Park - GALLERY

09 November 2012

Final Ride of Respect
Thousands of bikes turn out for last Mother's Day parade through Royal Wootton Bassett - GALLERY...

Wootton Bassett Rocks!
Local people unite to make charity single & video for military charities - GET INVOLVED - VIDEO FILMING THIS SUNDAY...

15 September 2011

Everyone A Hero
ARCHIVE: Wootton Bassett honours Lieutenant Daniel John Clack - the final repatriation...

18 August 2011

The Final Repat?
Emotional farewell in Wootton Bassett for Marine James Wright...

11 August 2011

Ride of Respect
10,000 bikers ride through Wootton Bassett to show appreciation for fallen soldiers...

04 April 2011

A Mother Mourns
Emotional repatriation at Royal Wootton Bassett...

30 March 2011

Royal Tribute
Prince Harry opens Remembrance Field at Lydiard Park...

09 November 2010