Date added: 23 May 2009
All aboard the Hogwarts Express!
Swindon-built loco casting spell on festival
Harry Potter fans, film buffs and Swindon railway enthusiasts are making a beeline for the Gloucestershire Warwickshire Railway this weekend, to catch the Hogwarts Express.
The loco used in all the Harry Potter movies is really 5972 Olton Hall, which was built in Swindon in 1937.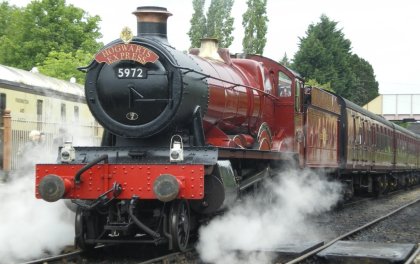 A chance to take a ride like Harry Potter:
the Swindon-built Hogwarts Express is taking paying passengers
on the Gloucestershire Warwickshire railway throughout
Decked out in her red livery and with the Hogwarts Express headboard on her smokebox, she will be pulling trains during four days of steamings between the preserved railway's Cheltenham Racecourse and Toddington stations (Saturday, May 23-Tuesday, May 26).
City of Truro and Black Prince
Also appearing at the festival is another famous Swindon engine, City of Truro, the first locomotive in the world to reach a speed of 100mph (see link below).
And if that wasn't enough to whet the appetites of railway enthusiasts, another visitor is 92203 Black Prince, the 9F 2-10-0 owned by artist David Shepherd, which was also built in Swindon, exactly 50 years ago.
In all, there will be no less than nine locomotives featuring in the festival, which will also include stalls and displays, refreshments, shed visits, railway art and even the chance to ride on a brake van.
For full festival details, see GWRS link below.
Harry Potter Night!
An evening of all things Hogwarts incl. fun quiz at Swindon Central Library - 27 FEB

Harry Potter
Happy anniversary Harry! Here's #Swindon's connection to the boy wizard 20 years on from the day Harry Potter and the Philosopher's Stone was first published...

The Railway Works
Celebrating Swindon175. A short introduction to the world's finest railway works. Founded this week in 1841....