Date added: 15 June 2009
Who could do this?
Community woodland in Highworth under threat from vandals

Around £600 pounds worth of damage has been done to the Pentylands Park woodland in Highworth.
Vandalism that has left the volunteers who helped build the community forest there disheartened and wanting urgent Police action to be taken against those responsible.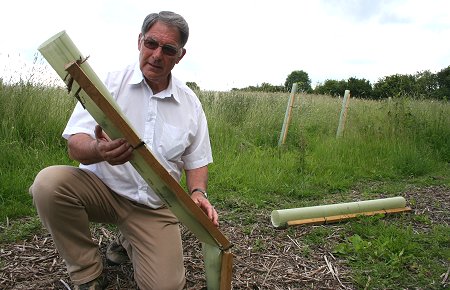 Ken Saunders of the Friends of Pentylands Park
Over one hundred young trees, many planted as recently as February during a huge community day, have been trampled in the last week alone.
"It's incredibly hard to accept that people are doing this," said Ken Saunders, chairman of the Friends of Pentlylands Park and a former Policeman, "and something must now be done to stop them."
"The people of Highworth have helped build this wood for the good of the whole town and if the rate of damage continues we'll have nothing left.
"All the trees are very young and they need protection while they mature.
"The Police know the people who are doing this, and it's simply not good enough for them to come and have a look around and agree it's mindless vandalism. We know that. We want whoever is responsible to be prosecuted."
'Highworth's breathing space'
First opened in 2006, Pentylands Country Park is described as 'Highworth's breathing space' and covers 40 hectares of young grassland and woodland to the north-west of the town, with over 3,000 native trees now planted.
a community day on 14 Feb 2009 planted over 1,000 trees
Popular with dog walkers it also features a play area and was developed in conjunction with the Great Western Community Forest.
Park Life
It's LOVE PARKS WEEK, the weather's brilliant - so what better time to enjoy Swindon's award-winning open spaces...

Tools At The Ready!
Pentylands Country Park in Highworth enjoys activity day 5 years after first trees were planted - PICS

09 August 2014

Tree-mendous!
Hundreds put heart and soul into a Valentine's Day with a difference....

14 February 2009