Date added: 19 June 2009
A Dress-Up Delight
Swindon designer Rosa Bloom prepares for Glastonbury
A woman's innate love of the 'dressing up box' never seems to get old.

From a 5-year-old in mum's heels to a grown up getting ready for a night out, the excitement of playing someone else, of slipping on a new you, will never fade.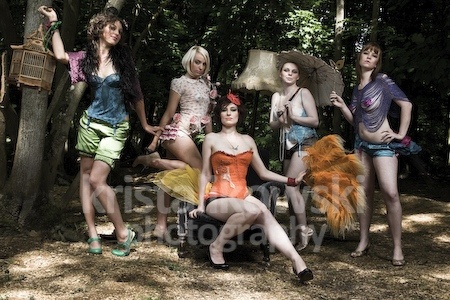 (l-r) Rosa Bloom, Jo Phelan, Sherie Smith (Miss Swindon), Jaime Goodenough and Helen Drew

Rosa Bloom, the new fashion brand of Rosa Hirsch-Holland, is mother to hundreds of innovative and fanciful designs, treating Swindon to a delicious helping of fashion like it has never seen before.

Rosa Bloom creates a theatrical spectacle from the past and uses a strong burlesque streak.

With clear influences from centuries gone by, Rosa sells a collection of delicate and elaborate vintage pieces, altered and adjusted with a special Rosa Bloom twist.

Next to these one-of-a-kind pieces in her magical wonderland touring-boutique, patiently sit an incredible rainbow array of bustles, rails of boyish bloomers, delicate and girlie bras and draping beaded jewellery. Thematically drawn to florals and plush fabrics, Rosa's pieces have an essence of elegance about them, as well as being characteristically fun and dramatic.

A fashion shoot for Rosa Bloom, pre-Glastonbury, was organised for a sunny weekend in June, and I played stylist in this production of dress-up.

Thanks to a previous article in The Swindon Link, fashion creatives from all over Swindon united in this project after contacting Rosa Bloom who was more than keen for a shoot to take place.

Compiling the Rosa Bloom pieces was incredibly enjoyable and felt almost like organising an art gallery; placing pieces beside each other to complement, but not to outdo or crowd. Hoards of clothes, accessories, and vintage props were taken on location to a farm in Lechlade.

All of the team members were greatly enthused by this shoot; all of us benefitting from the originality of the designs; the freshness of the location and the fun and theatrical element to this entire aesthetic.

All of the models performed fantastically, bringing unique styles to each outfit, injecting character into these static items.

Putting life back into the vintage and playing with the new pieces that are ready to hit Glastonbury next week, the models spent an entire day being dressed by me, and having their hair and make-up done by Hair and Make-Up stylist Gemma Sutton.

Swindon fashion photographer Kris Talikowski was ring master to this staged production, and ensured the final images got the creativity and originality that the garments themselves begged for.

From the point of view of the stylist, Rosa Bloom is a treat to work with on a shoot like this.

Utterly unique, the art of dressing up has endless possibilities with this expansive collection of colours, fabrics, exaggerated shapes and the creation of hundreds of potential characters.

Thanks to a glorious day, beautiful location and innovative ideas, the contrast between the theatrical and the rural really shone through. Setting off to Glastonbury in a matter of days, the Rosa Bloom bubble of fantasy is sure to create waves of child-like excitement wherever it goes.

Bringing out the lover of the dressing up box in everyone, Rosa Bloom is what fashion should be all about.


Rosa Bloom Picture Gallery
Hello misses!
See pictures of the new Miss Swindon and Miss Wiltshire 2010...

10 May 2010

Vote Miss Swindon!
Forget the Euro elections, there's a far more important reason for the people of Swindon to vote this week...

03 June 2009

Hiya gorgeous!
Sherie Smith is crowned the new Miss Swindon...

18 May 2009