Date added: 19 June 2009
Poetry in motion
Swindon bus passengers experience a different way to travel
Bus passengers in and around Swindon have been experiencing 'poetry in motion' this week.
Swindon's self-styled community poet Tony Hillier has been entertaining those who travel on Thamesdown Transport buses to get the town involved in arts.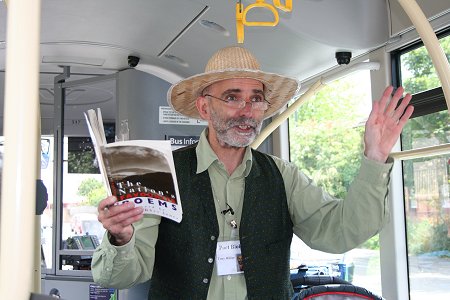 Tony Hillier on Thamesdown Transport buses around Swindon
Armed with a clipboard and pen, Mr Hiller has been urging passengers either to write down their feelings, or express them verbally, about anything from their journey to work or the weather to the state of the economy.
"The aim is to spark creativity in the bus passengers of Swindon," commented Mr Hiller, "Believe me, it's there – it just needs sparking up."
"There are poetic gems in everyone. People can surprise themselves. You just have to light the blue touch paper and stand back."

The project was inspired by an initiative on the London Underground when verses from famous poems were displayed at stations to cheer up passengers.
"We were very intrigued by Tony's suggestion," said Thamesdown Transport MD Paul Jenkins.
"We are also keen to try new community-based projects. "We are certainly interested in the thoughts of our customers; whether it is about the day's journey to work or about the service we provide in general – or anything else that is on their minds, for that matter."
Swindon Does Arts
New initiative aims to get everyone in Swindon actively engaged in arts activities...