Date added: 02 July 2009
Want to look like the Saturdays?
Our style guru Emma Kimber puts the new range to the test
As the chart-storming girl band The Saturdays head to Swindon for the second time this summer to perform at the Oasis tonight, their new fashion collection for fashion brand Rare is put to the test by Swindon's testing team.

Rare by The Saturdays is a capsule collection of ten pieces.

Two outfits are designed by each of the five members of the girl group. Ranging from £35 to £69, the dresses are stylishly sexy and embody the girls' fashion mantras.

"Our fans are so dedicated and really know us inside out so it's essential that our dresses reflect each of our personalities and that they are true to what we each wear normally!" commented Mollie, of The Saturdays.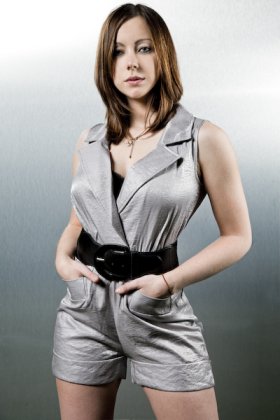 Vicki wears Frankie
Metallic Playsuit, £45
The girls are keen followers of fashion but also understand that trends must work with your personal shape and style to achieve a look of true star status.

The ten dresses, all micro-minis, are different styles and colours designed to suit real girls who are confident about their bodies and just want to have fun.

Metallic hues, body-con fits and futuristic embellishments feature heavily in this collection, giving all fans and shoppers a sneak peak into the each Saturday's wardrobe for this Autumn/Winter.

Having managed to get my hands on five pieces from this new and super shiny collection, I was eager to test the waters and see just whether Swindon girls could wear these dresses with confidence.

Coming from five size-8 pop stars, I was skeptical as to whether the designs would cut it with five gorgeous, and very stylish Swindon girls.
Sarah Kimber, 17, from Peatmoor, modelled Una's Studded Boob-Tube dress.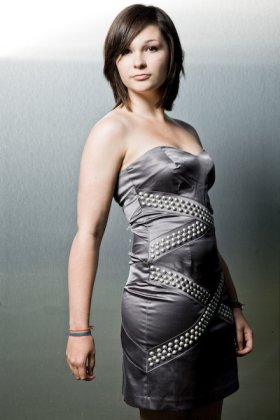 Sarah wears Una
Studded Boobtube dress, £69

"It's cool for celebrities to bring out their own endorsed brands. Like the Girls Aloud fake eyelashes you can now buy, it's nice to have something that a favourite celeb would definitely wear, because they designed or contributed towards it."

Although Sarah wasn't a huge fan of the dress, it did grow on her throughout her trial.

"It's not something I'd usually pick out, and I don't really like studs. Also, the paneled section on the front frames the stomach, so for any girl larger than a size 10 I can't imagine it would be flattering. Being a standard size 10 it fitted me quite well, but was still fairly figure hugging!"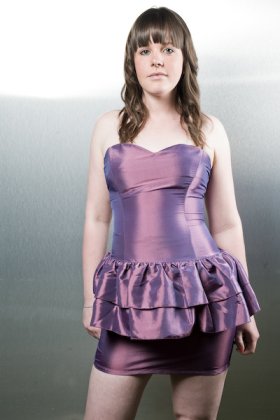 Becky wears Mollie Peplum Dress, £35
As with many high street retailers, the sizing was a little inconsistent.
The two size 12s were where the issues lay: both of my Swindon girls take size 12 in every high street store, but when it came to these dresses the Peplum dress was strainingly tight and the navy ruffle dress wouldn't even do up.
Polly Leech, 17, from Rushy Platt, explains: "I always wear a size 12 and this dress (Vanessa's navy ruffle dress) wouldn't even zip all the way up. This would make most girls feel a bit bad about themselves and shows that The Saturdays are not really designing for anyone but girls of their own body shape."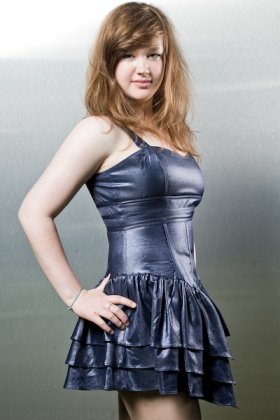 Polly wears Vanessa
Ruffle Pipe Dress, £59

"These dresses are a little too short for The Saturday's target audience I think," says Rachael Mak, 21, from Shaw.

"The styles will appeal to girls around my age, but the dresses are all really short and I think a lot of girls will shy away from them for that reason."

Rachael tried out Rochelle's little black dress and chainmail waistcoat. "These dresses are clubbing dresses," says Becky Halliday, 21, from Shaw.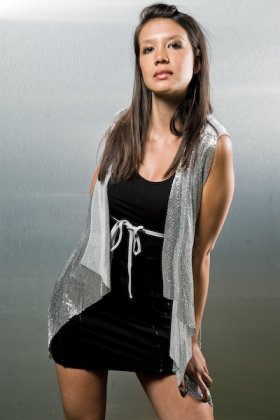 Rachael wears Rochelle
Chainmail Waistcoat,
£69 and Black Dress £35
"They are good colours and there are some good shapes but they are going out clothes, and the majority of The Saturday's audience aren't old enough to go out and wear these clothes! I quite like their music, but a celebrity endorsed fashion collection wouldn't persuade me to buy; I like my own style!"
Perhaps The Satudays should have considered designing a slightly younger range of clothes for their biggest fans; but as it stands their target shoppers are left a little bemused.
Good dresses, girls, but not for everyone it would seem.
A confident girl can pull off whatever she feels most stylish in, so take a tip from The Saturdays: dress for your body, stay true to your style, and smile.
And if you are lucky enough to see them tonight, be sure to take notes, as I think that these five stylish ladies have a lot more left to say on the fashion scene.
The dresses are available at selected Topshop stores (the closest being Bath) and online on
www.rarefashion.co.uk.