Date added: 11 July 2009
In the swing
Peter Mitchell Golf Academy opens in Swindon
Help is at hand for Swindon golfers wanting to improve their game.
Former PGA Tour player Peter Mitchell has opened a brand new academy at Wrag Barn Golf Club in Highworth, and was on hand today to pass on his experience and demonstrate what was on offer.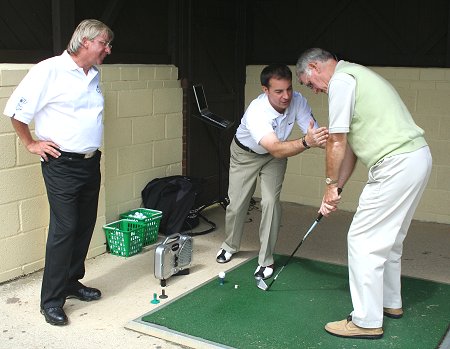 Peter Mitchell (l) and Academy Director Ian Risdale
give instruction to a Wrag Barn member
"The facilities here are ideal, and I'm delighted to be part of what is a fantastic club," said Mitchell, who has previously coached Swindon pro David Howell and Darren Clarke.
"We have a specialist short-game area with putting analysis and offer expert tuition for all standards of golfer and all ages."
The academy will be run by Wrag Barn's Director of Golf Ian Risdale, who will be bringing his wealth of club-fitting experience as part of team of four PGA Professionals.
"By bringing together the very latest technology coupled with world class expert tuition we aim to make Wrag Barn the number one destination for golf improvement in this area," Mr Risdale said.
More information on the Peter Mitchell Golf Academy is available via the link below.
Peter Mitchell Golf Academy Gallery
INTERVIEW: David Howell
VIDEO: We talk to the Swindon golf star ahead of this week's PGA Championships...

25 May 2016

Golf in Swindon
Beginner or Tour Pro, get in the swing with our Swindon golf guide...

David Howell Interview
SWTV speaks to the Swindon golf star ahead of this week's Ryder Cup - WATCH VIDEO

21 September 2012

What a shot!!!
Gong-ho David Howell enjoys the luck of the Irish in golf challenge - WATCH VIDEO...

16 August 2010

Seniors Success
Wrag Barn golf pro Peter Mitchell wins Czech Open...

24 September 2009