Date added: 14 July 2009
Swindon stands still
Walkway tribute for repatriated soldiers
Pensioners, young people - a man out walking his dog. They all stood still in Swindon today to pay tribute to the eight soldiers killed in Afganistan last week.
A small but significant crowd gathered on the Gablecross walkway in Stratton St. Margaret to watch the funeral courtege pass by carrying the eight coffins on their journey from RAF Lyneham to the John Radcliffe hospital in Oxford.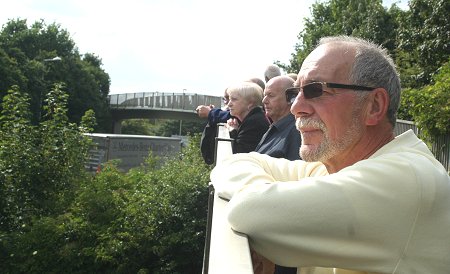 onlookers on the Gablecross walkway in Stratton St Margaret stand silent as the funeral courtege containing the bodies of eight soldiers negotiates the White Hart roundabout
and heads for the A420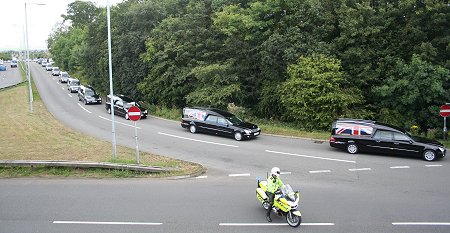 "It's our way of saying thank you for their sacrifice," one onlooker told SwindonWebTV, as they stood on the walkway that links Sainsburys and the White Hart pub on the Oxford Road.
"I've never stood here before but I felt it was important to be here today. One death is bad enough but eight. That's awful.
"I think it's a very significant day."
Gablecross Walkway Gallery
Funeral Courtege at M4, Junction 16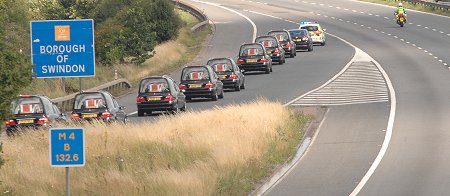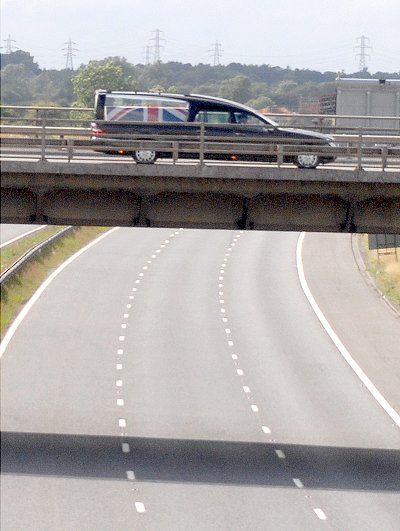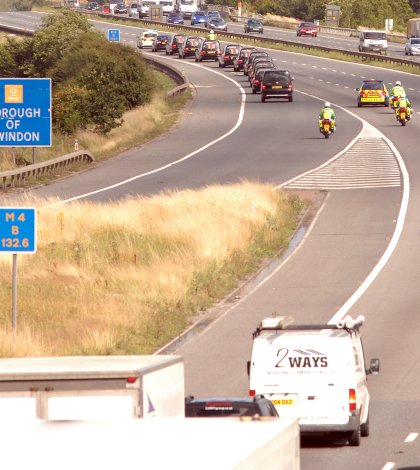 Bravery Recognised
Proud evening as Swindon soldiers are awarded Operational Service Medals for Afganistan Tour - WATCH VIDEO

12 March 2014

Radnor Street Remembrance
Swindon honours its war graves at much-neglected cemetry - GALLERY + PICS FROM OTHER REMEMBRANCE DAY CEREMONIES

11 November 2012

Strictly Poppies
Come Dancing stars perform at the opening of Remembrance Field at Lydiard Park - GALLERY

09 November 2012

Final Ride of Respect
Thousands of bikes turn out for last Mother's Day parade through Royal Wootton Bassett - GALLERY...

Wootton Bassett Rocks!
Local people unite to make charity single & video for military charities - GET INVOLVED - VIDEO FILMING THIS SUNDAY...

15 September 2011

Everyone A Hero
ARCHIVE: Wootton Bassett honours Lieutenant Daniel John Clack - the final repatriation...

18 August 2011

The Final Repat?
Emotional farewell in Wootton Bassett for Marine James Wright...

11 August 2011

Ride of Respect
10,000 bikers ride through Wootton Bassett to show appreciation for fallen soldiers...

04 April 2011

A Mother Mourns
Emotional repatriation at Royal Wootton Bassett...

30 March 2011

Royal Tribute
Prince Harry opens Remembrance Field at Lydiard Park...

09 November 2010

Last flight in
Repat flight arrives as ash cloud reaches Swindon at 6:00pm...

15 April 2010

Family pays tribute
A widow and her two sons take their place among the crowds at Wootton Bassett...

Heroes' Send Off
Pictures from the Shrivenham Defence Academy repatriation tribute...

10 November 2009

Welcomed home by many
Second repatriation of the week takes place through Wootton Bassett...

01 October 2009

Home to tears
Second repatriation of the week passes through Wootton Bassett...

30 July 2009

Last road home
Hundreds line the streets to honour the latest fallen soldiers...

28 July 2009

Pride and sorrow
Wootton Bassett a standstill for Lt Colonel Rupert Thornloe and Trooper Joshua Hammond...

Moving tribute
The 150th repatriation passes through Wootton Bassett...

23 March 2009