Date added: 17 July 2009
39 years of service
Shrivenham lollipop lady retires in style
Gone are the days that employees work in the same job their whole life, with people shifting careers and looking for new opportunities all the time. However, dedicated council employee, and long-term Lollypop Lady, Dot Painter, is one of a rare breed who have given their life to their job for almost 40 years.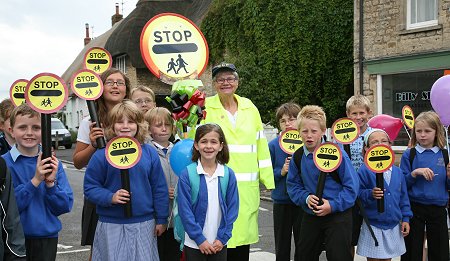 Dot Painter with Shrivenham Primary school on her last
Dot retires from her official position of Council Crossing Guard today, and told us she has thoroughly enjoyed her time, "I love my job and knowing its coming to and end, makes me really sad".
Dot talked to us about her experience, "I've seen it all these last 40 years, from car crashes to cheeky teenagers but I feel like I've done my bit to keep the kids safe and teach them about road safety."
Finishing today, Dot's son Martin picked her up from 'Dot's spot' in a shiny new silver Mercades, to celebrate his Mum's retirement. "I'm looking forward to some lie ins" added Dot, "but I'm sure my husband will have me up making him his morning cuppa in no time".

Dot Painter retires - 17/07/2009