Date added: 20 July 2009
Caterpillar Kebabs!
Imaginative pub menu now on offer after school competition
Visitors to the Black Horse pub in Wanborough will soon see the unusual sight of Caterpillar kebabs* and rice crispy chicken on the menu thanks to the imagination of pupils at their nearby primary school.
Landlords Graham Worrallo and Hayley Williams challenged the children at Wanborough primary to come up with a new menu for the pub, and new front cover menu design.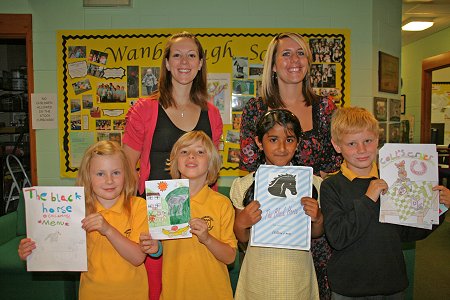 pupils from Wanborough Primary School with their winning drawings
And out of the 50 entries the Arkell's pub received, Graham and Hayley chose a winner and runner up in each of the two categories.
First prize for the menu design was seven-year old Annabelle Whitford, who is in Year 3 at Wanborough Primary School.
Her menu included Caterpillar Kebabs, Teddies in Bed, Meatballs in Spaghetti and Rice Crispy Crunchie Chicken. Puddings included Fruit Smoothies, 'Ice your Own Muffin' and home-made rice pudding.
All of these ideas will be included on The Black Horse's new menu, which is being rolled out in the next two weeks.
The winner of the Cover Design was nine-year old Toby Berwick, who is in Year 4 at the school.
Hayley said: "All their ideas were very imaginative and we had a lot of fun deciding the winner. What did surprise and delight us was that there was so much variety in what they offered – we did wonder whether it would be all chips and burgers – but there were actually more fresh vegetable and fruit suggestions than anything else."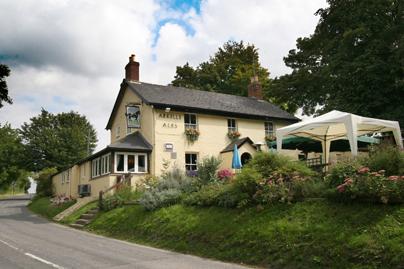 The Blackhorse at Wanborough
Year 3 teacher at Wanborough Primary School, Lindsay Wood, said: "This was a lovely way to bring teaching to life. It fitted in well with projects we were doing on village community and healthy eating."
*The Black Horse wishes to make it clear that absolutely NO caterpillars or Teddies will be hurt as a result of Caterpillar Kebabs and Teddies in Bed going on the menu.
The Black Horse will be serving two types of caterpillar kebabs: a savoury version of mixed meat, peppers and other vegetables. Plus a sweet version of a selection of fresh fruit.
Teddies in Bed are vegetable or chicken cannelloni in cheese sauce.