Swindon Weekend Pursuits
Want to do something different with your time off?
It dawned on us here at SwindonWeb the other day that people in Swindon get up to all sorts of things on their weekend off.
Some do the usual and enjoy a lie in; others head straight down the pub; and, of course, most of us just look to make the most of two days away from work.
But what's out there to do in Swindon at the weekend that's just a little bit different?
Over the next few weeks, we'll be investigating.
Take a stroll Scandinavian style
This is available to try at Stanton Park every Sunday morning until September 2009, and at other venues around Swindon throughout the year.
Each session lasts about an hour.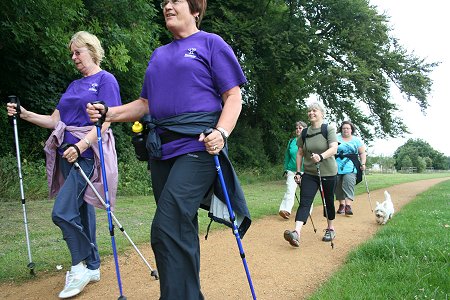 Nordic Walking at Stanton Park
Nordic Walking shouldn't be confused with trekking or hill walking, and uses poles to propel the walker along - getting the upper body muscles involved as well as the legs.
"Anyone can try it and it's great for improving fitness," said organiser Cheryl Heyne.
"Everyone who comes out and tries it really enjoys it. It's quite a skill when you get it right and for getting out and enjoying some fresh air it's ideal."
Equipment is provided for those who want to try it.
More details are available via the link below.
PART TWO: Skydiving in Swindon
- coming soon!
Stanton Park
Our boy Milo's off for a walk around Swindon's haven for wildlife...