Date added: 06 August 2009
Jailed for 3 years
Killer driver of Swindon seven-year-old imprisoned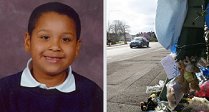 Tyrese Hannah and the scene
of the accident in Drove Road
The driver who killed seven-year-old Tyrese Hannah when his car mounted the pavement on Drove Road has been jailed for three years.
Sean Austin, 20, ploughed into Tyrese, of Old Walcot, in March 2008 as the boy walked with his mother, Caroline, and pet dog, Odi, near the junction with Belle Vue Avenue.
Swindon Crown Court was told today that Austin was travelling at between 45 and 50mph at the time of the accident, where the speed limit was clearly marked 30mph.
Judge Mr Douglas Field told Austin he had ended the life of a "promising and loved child" and ignored mitigating pleas to hand down a custodial sentence.
Outside the court, Caroline Hannah desribed the sentence as "not good enough for the loss of her 'precious little boy'".
"He [Austin] isn't remorseful at all," Ms Hannah added.
"He has been going out and having a good time. Words cannot describe how I feel. We were walking along happily.
"Everyone misses Tyrese so much. I miss him more than anything. If he were still alive we would be having fun in his school holidays."
Fatal Crash
Accident claims life of teenager driver on Wharf Road in Wroughton - UPDATED...

02 November 2009