Date added: 08 August 2009
50 years ago today
Swindon's unlikely connection the Abbey Road album shot
It's one of the most famous album covers in the world - the Beatles walking across the zebra crossing just outside the Abbey Road studios in London.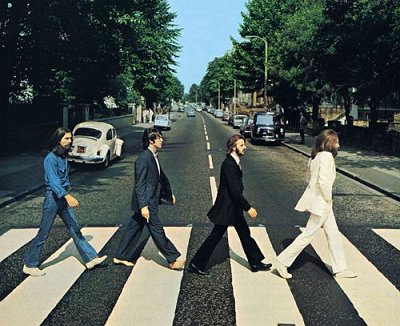 Abbey Road 08 August 1969:
The Beatles, with the Swindon-registered
A picture of John, Paul, George and Ringo that was taken on this day exactly 50 years ago.
But what's in it that has a connection to Swindon?

It's the white Volkswagen Beetle (funnily enough) parked on the kerb on the left.
A car registered in Swindon in 1968, no less! Registration number LMW 281F.
It was allegedly parked there deliberately for the shot (although one resident claims it was his), with many thinking it a rebus connected to the apparent death of Paul McCartney three years before (see below).

Whose car it was, no one knows. Was it yours?
All we know for sure, it was sold to an Amercian collector in 1986 for £2,350.
Bizarre as this may sound, many people still believe the conspiracy around the apparent death of Paul McCartney is true.
And they cite the Swindon-registered white Beetle in the Abbey Road picture as added proof.
Those subscribing to the "Paul is Dead" theory believe McCartney died in 1966 and was replaced by a look-a-like and play-a-like.
The procession on the Abbey Road cover was then supposed to be the band's way of telling people this, with the photo reflecting a preacher (Lennon), an undertaker (Starr), a corpse (McCartney - hence he is the only one barefoot) and a gravedigger (Harrison).
The number plate on the VW Beetle also plays into the "Paul is Dead" theory. Part of the registration number reads "281F" which some have read as "28 IF", meaning that Paul would have been 28 if he had lived.
Well, that was the 60s for you!
The Beatles
50 years on from their first UK hit - here's the FIVE links between Swindon and the fab four...