Date added: 04 September 2009
Fallen but not forgotten
Two more heroes are repatriated through Wootton Bassett
Hundreds of people have once again lined the Wootton Bassett High Street to pay their respects to two Scottish soldiers killed in Afghanistan.
Sergeant Stuart Millar, 40 and Private Kevin Elliott, 24, both from The Black Watch 3rd Battalion The Royal Regiment of Scotland passed through the town today.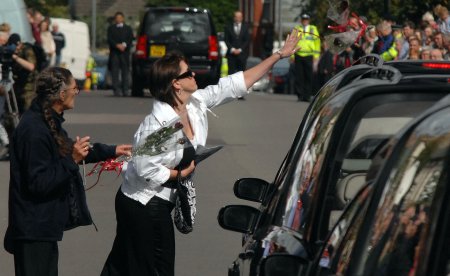 family members at the repatriation in Wootton Bassett
As the cortege passed through the High Street at 1.30pm today, silence fell, broken only by the chiming of the bells of the All Saints Church.
The solders will continue on to Oxford's John Radcliffe Hospital, where post-mortem examinations will be completed.
Crowds have lined the route to pay their respects since the bodies of British service personnel began being brought home through RAF Lyneham in 2007.
photos by Calyx
Bravery Recognised
Proud evening as Swindon soldiers are awarded Operational Service Medals for Afganistan Tour - WATCH VIDEO

12 March 2014

Radnor Street Remembrance
Swindon honours its war graves at much-neglected cemetry - GALLERY + PICS FROM OTHER REMEMBRANCE DAY CEREMONIES

11 November 2012

Strictly Poppies
Come Dancing stars perform at the opening of Remembrance Field at Lydiard Park - GALLERY

09 November 2012

Final Ride of Respect
Thousands of bikes turn out for last Mother's Day parade through Royal Wootton Bassett - GALLERY...

Wootton Bassett Rocks!
Local people unite to make charity single & video for military charities - GET INVOLVED - VIDEO FILMING THIS SUNDAY...

15 September 2011

Everyone A Hero
ARCHIVE: Wootton Bassett honours Lieutenant Daniel John Clack - the final repatriation...

18 August 2011

The Final Repat?
Emotional farewell in Wootton Bassett for Marine James Wright...

11 August 2011

Ride of Respect
10,000 bikers ride through Wootton Bassett to show appreciation for fallen soldiers...

04 April 2011

A Mother Mourns
Emotional repatriation at Royal Wootton Bassett...

30 March 2011

Royal Tribute
Prince Harry opens Remembrance Field at Lydiard Park...

09 November 2010

Last flight in
Repat flight arrives as ash cloud reaches Swindon at 6:00pm...

15 April 2010

Family pays tribute
A widow and her two sons take their place among the crowds at Wootton Bassett...

Heroes' Send Off
Pictures from the Shrivenham Defence Academy repatriation tribute...

10 November 2009

Welcomed home by many
Second repatriation of the week takes place through Wootton Bassett...

01 October 2009

Barrow Boys
Pictures from the Highworth Pram race in aid of Help for Heroes...

22 August 2009

Home to tears
Second repatriation of the week passes through Wootton Bassett...

30 July 2009

Last road home
Hundreds line the streets to honour the latest fallen soldiers...

28 July 2009

Pride and sorrow
Wootton Bassett a standstill for Lt Colonel Rupert Thornloe and Trooper Joshua Hammond...

Moving tribute
The 150th repatriation passes through Wootton Bassett...

23 March 2009