Swin' when you're winning
Robbie's enjoying the Swindon life
Robbie Williams has been telling everyone how much he likes the country life - including trips to Swindon.
"I've been in the countryside and I've been in Swindon.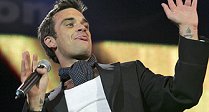 "It's lovely down there and the people have been great with us," the former Take That said ahead of the release of his brand-new single Bodies.
Williams, who moved to nearby Compton Bassett last year, has best-mate Jonathan Wilkes in Wootton Bassett and regular poker haunt The Premier Club in Stratton St Margaret.
In January the singer was seen coming out of Red Planet Bikes in Wood Street after buying a mountain bike - and will be appearing in the forthcoming series of X-factor alongside another famous Old Town shopper - Madonna.
The Queen of Pop having popped into Old Town Hardware in 2007.
Madonna in Swindon!
The story of the queen of pop, a paella dish and a surprise visit to Old Town...

15 August 2008