Date added: 09 September 2009
GWH staff take suspension lying down
Swindon hospital prank goes oh so wrong (but come on, was it so bad?)
A weekend stunt by a small group of A&E doctors and nurses at the Swindon Great Western Hospital has backfired - big time.
But no, we're not talking drinking games, bed bath high jinx and a 'scrub up' in Theatre - it's all about 'lying down' on the job, a Facebook craze where people post pictures of themselves on the internet.
And after staff at GWH photographed themselves stretched out on resuscitation trollies, ward floors and even the hospital heli-pad during an August nightshift, seven doctors and nurses have been suspended from duty pending an enquiry.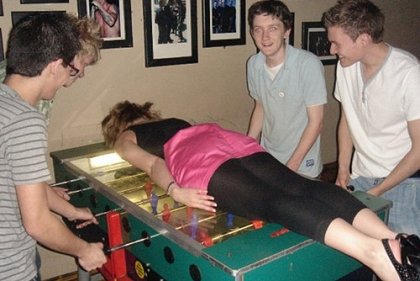 A Trust spokesman confirmed that health and safety and infection control regulations have been broken as well as the NHS and Trust code of conduct.
The joke rumbled after management spotted the pics on the popular social networking site under the name of the 'Secret Swindon Emergency Department Group'.
"The disciplinary hearings are yet to take place and we cannot predict the outcome," said an official statement.
"A number of staff were suspended following allegations of unprofessional conduct while on night shift duty in the hospital during a weekend in August.
"This did not involve patients and we are satisfied that at no time was patient care compromised."
To play the game, contestants must lie face down with the palms of their hands flat against their sides and the tips of their toes pointing at the ground. Extra points are awarded for good technique and unusual locations.
"We aren't ruling out sackings," added a spokesman.