Date added: 15 September 2009
Cheers Mr Floyd!
We raise a glass to the celebrity chef who was a regular - quite literally - in Swindon
SwindonWeb was sorry to hear of the passing of good old Keith Floyd - and so were, no doubt, a number of pub landlords in Swindon.
this time on the coffee after
being convicted of drink-driving
The larger-than-life celebrity chef famously always liked a tipple or two, and being a resident in nearby Faringdon for many years tended to frequent watering holes in Swindon on more than one occasion.
A quick Friday night glass of the Premier Cru at the Jesmond House in Highworth that turned into a four-day overnight bender in 2003 being just one of many we've heard of over the years.
There were even rumours that he was going to take over the hotel and have one last fling as a restauranteur - the profession that brought him fame and fortune during the 80s and 90s as TV's original 'bad boy' chef.
But when Floyd hit the headlines for drink driving in Swindon in 2004, after crashing his Peugeot on Coleshill bridge, any plans he had for a kitchen comeback were sadly thrown in the waste disposal.
Floyd eventually agreeing to help Swindon Police with their anti-drink-driving message that Christmas with an immortal phrase only he could get away with:
"enjoy yourselves, get pi**ed at home and don't drive!"
Not that that stopped the well-known quoffer returning to Highworth for more socialising a la vin - including the odd stop-off at Rafus in the high street for a late-night lobster curry.

"He was partial to our Korai Lobster, the most expensive dish on the menu" restaurant owner Rafu recounted to us, "but he wasn't a big fan of our house red.

"'This wine is cr*p' he would tell me, right in front of everyone! Insisting he'd rather only cook with it, than drink it."
"But he did whisper to me on leaving that my food wasn't half bad, so I couldn't help but like the chap for his honesty.
"He always paid his bill, left a tip. And I have to say, I quite liked him."
His last appearance in Swindon, however, was not one propping up a bar or enjoying a boozy dinner party, but one recounting his hugely entertaining life to an audience at the Arts Centre in November 2005.
A two-hour telling of tales and tribulations that included Floyd's trademark glass of claret by his side throughout.
The 65-year-old died today of heart attack, just days before he was due to receive treatment for bowel cancer.
Keith Floyd has sobering thought for Swindon drinkers
TV celebrity chef Keith Floyd had a sobering message for Swindon drinkers this week: "enjoy yourselves, get pi**ed at home and don't drive!"

The flamboyant former restauranteur was speaking at a specially arranged press conference at Swindon Police Station to warn Christmas revellers of the dangers of drinking and driving this festive season.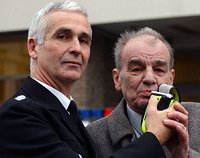 Floyd, 60, found himself in the unenviable position of advising on the perils of having one tipple too many before getting behind the wheel after he was convicted of drink-driving late last month.
That followed an unfortunate incident in which the Faringdon resident was involved in a collision on Coleshill Bridge, just outside Highworth on the 9 November.

Ajudged to be three-and-a-half times over the legal limit when causing the accident in his Peugeot 806, Floyd was arrested and held overnight in Swindon police station. On Tuesday, 23 November he was convicted for the crime and banned from driving for 32 months, and fined ?1,500 by a magistrates? court.

Recipe for disaster

"My message is very clear and very simple, too many people do not realise that if they have been drinking the night before, one drink can top them up," he warned.

"The night before my own arrest, I had been at a dinner party and had lots to drink. The following day, I went to a business meeting, had a couple of drinks and ended up being incarcerated.
"It simply isn't worth it!" the television presenter added mournfully.
Costly mistake

Already counting the cost for his error of judgement, Floyd went on to emphasise that those who drink and drive face harsh penalties - both emotionally and financially.

"Losing my license means I have already lost a lot of lucrative work in the last few weeks alone. The grief it causes my friends and family is also immeasurable. It is most important not only at Christmas but at all times, don?t drink and drive. Just don?t do it - it causes too much sadness and fatal losses."

Seconding Floyd's wise words was Inspector Wayne Smith, who is spearheading the drink-drive campaign.
"I welcome Keith's involvement in this campaign. He is only too aware of the inherent dangers and consequences of drink-driving. No-one intends to go out and kill, but people who drink-drive are responsible for hundreds of deaths a year."

"Let us hope his example will encourage people to think again this Christmas."