Date added: 24 September 2009
Seniors Success
Wrag Barn pro Peter Mitchell wins Czech Open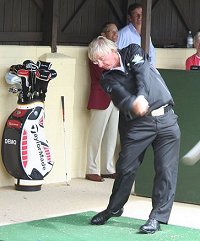 Peter Mitchell, seen here hitting
Swindon golf star David Howell might like to take a tip from former coach Peter Mitchell, after the Wrag Barn-attached pro won the Seniors' Casa Serena Czech Open at the weekend.
Mitchell, who opened a golf academy at the Highworth club in July, pipped well-known names such as Ian Woosnam and Bernhard Langer to what is one of the biggest prizes on the 2009 Tour.
"I couldn't be more pleased with the way I played," Peter said, who now stands in 5th place in the Seniors Order of Merit.
"I struck the ball really well and my putting all week was the secret. I holed all the crucial ones I needed."
David Howell Interview
SWTV speaks to the Swindon golf star ahead of this week's Ryder Cup - WATCH VIDEO

21 September 2012

What a shot!!!
Gong-ho David Howell enjoys the luck of the Irish in golf challenge - WATCH VIDEO...

16 August 2010

In the swing
Peter Mitchell Golf Academy opens in Swindon...