Date added: 30 September 2009
Help 4 Heroes Premiership tour
Help 4 Heroes Premiership tour
Leaving from Swindon on Thursday 1st October, 4 men in one car will embark on a 48 hour journey to visit 20 Premiership Football Clubs.
And they're doing it to collect memorabilia for auction to raise money for Help 4 Heroes.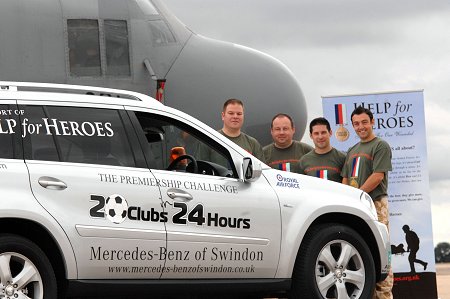 Corporal Johnny Carberry-Rogers, Corporal Gaz Owens, Flight Lieutenant Ben Hanson and David Harries
Corporal Johnny Carberry-Rogers and Corporal Gaz Owens, both from 70 Squadrons Operations and Flight Lieutenant Ben Hanson, a Captain on the Hercules C130K, will be travelling from Lyneham to Portsmouth and as far North as Sunderland.
They will be accompanied by David Harries, sales director Mercedes-Benz in Swindon.

The auction will take place at a dinner to be held on 19th November with former player and England manager Stuart Pierce being the guest speaker.
And former Army Major, David Bradley will be a guest speaker; he was hit by a rocket propelled grenade in Iraq and was given a less than 10% survival rate and will clearly have a very impressive and quite remarkable story to tell.
Tickets are priced £40 and can be bought through David Harries through the Mercedes link below.

The trio hope to raise at least £5,000 through their efforts good luck boys!
Armed Forces Day 2011
Military parade, veteran's badge ceremony plus a full day of family entertainment - SEE OUR VIDEO AND GALLERY...

TA' very much
Swindon TA centre welcomes new tanks for training...