Date added: 20 October 2009
Gaming taken to the next level
Shoppers are entertained with Space Invaders on the Big Screen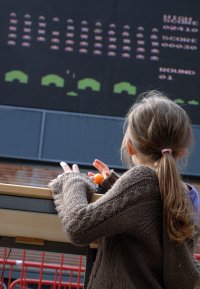 shoppers in the town centre
try games out on BBC
Big Screen
We all remember the classic games such as Pac Man and Space Invaders so why not return to your childhood and play them in the town centre.
As part of the relaunch of the Museum of Computing in Swindon, the Museum held a gaming day at Wharf Green using the BBC Big Screen between as an ultimate interactive gaming experience for the public.
Taito 'Space Invaders' (a true classic) and Ubisoft 'Rayman Raving Rabbids TV Party provided passes by hours of social multi-player fun!
The aim of the day was to give the general public a taste of what the museum has to offer with its historical computers and consoles that are on display at the new museum, 6 to 7 Theatre Square, between the Central Library and the Wyvern Theatre.
The museum charts the history of the digital age and one important aspect of this is computer gaming.
The demand for better game graphics has driven the development of higher definition screens and more computer processing power as different manufacturers compete for market leadership.
A dozen hands-on machines will be interactive to allow a feeling of rewinding back the years.
Bedroom Programming Challenge
Spend a night at the museum...step back into the 80's and create your own hit computer game. No programming experience needed! 14 MAY...

Gaming On The Go
A new exhibition looking at the handheld games console's 35 year history. Over 50 exhibits on show with many available for visitors to play!

Home sweet home?
It's good news and bad news for the Museum of Computing...

28 May 2008