Date added: 03 November 2009
Hot seat - Billy Paynter
We put the Swindon Town striker to the test
Who's in the hotseat? That is the question!
The new regular feature from SwindonWeb, where we put some of Swindon's top personalities on the spot.
Sport stars, singers, councillors and coppers – they'll all be put in our infamous flaming chair (bought from Argos for £4.99 and decorated in true Blue Peter style by our very own Team Newsdesk), for a grilling that even Jeremy Paxman would be proud of.
This week: BILLY PAYNTER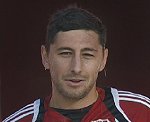 He scored two super goals at the weekend away to Tranmere, but what's his hidden talent?
And what was the last lie he told?
Watch our Hot Seat to find the answers to these questions, and more!
Swindon 0 Millwall 1
Fans' agony, Austin in tears and FITTON FURIOUS - it's no Wembley dream for Town...

29 May 2010

Swindon 2 Charlton 1
Austin and Ward give Town the advantage - WATCH SWTV FANS' VIEW + MATCH PHOTOS...

Millwall 3 Swindon 2
Town to face Charlton in the play-off semis - first leg next Friday...

08 May 2010

Leeds 0 Swindon 3
Top two for Town as Paynter and Austin stun Leeds again...

03 April 2010

Swindon 1 Norwich 1
Last-gasp Greer caps brilliant week for Town - SWTV FANS' VIEW + MATCH PHOTOS....

Brighton 0 Swindon 1
Austin steps up to give Town back their confidence despite first-half injuries...

13 March 2010

Orient 0 Swindon 0
Wilson settles for a point despite call for late penalty...

27 February 2010

Swindon 2 Carlisle 0
Paynter & Austin on target again but late Greer injury a worry - MATCH PHOTOS...

20 February 2010

Austin signs
Star striker commits to two-year deal at Town...

02 February 2010

Swindon 3 Leeds 0
Onwards and upwards, Town stun the League leaders - WATCH SWTV FANS' VIEW

Pericard signs
Swindon make their first major signing in the transfer window...

14 January 2010

Fulham 1 Swindon 0
Zamora the difference as Premiership quality proves too much...

02 January 2010

Charlton 2 Swindon 2
Town players gutted as nine-man Charlton score at the death...

26 December 2009

Swindon 1 Woking 0
No shock as Paynter sends Town into the second round...

07 November 2009