Date added: 06 November 2009
Safer Swindon
Bus rolls out to reassure neighbourhoods
'Not In My Neighbourhood Week' has seen the Community Safety Partnership (CSP) agencies in Swindon engaging with neighbourhoods and undertaking enforcement activity to tackle crime, anti-social behaviour and enviro-crime.

The Safer Swindon bus visted a different location every day throughout last week, equipped with numerous multi-agency staff from the Police, Swindon Borough Council Trading Standards, Network Rail, Wiltshire Criminal Justice Board, Wiltshire Fire and Rescue Service, drug and alcohol action teams, as well as neighbourhood wardens.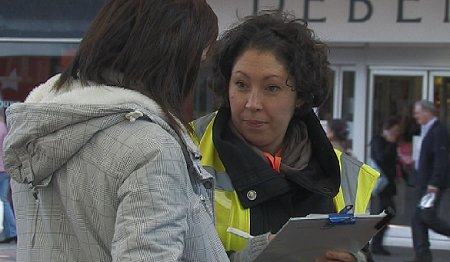 Community Safety agencies give advice in the Town Centre
Residents were able to board the bus to outline their community safety concerns with experts who could help.
Keeping Swindon Safe
Network Rail also joined the Community Safety agencies on the bus to raise awareness of the serious consequences of trespassing and vandalising the railway, and highlighting what the public can do to help combat the issues.
"We've been be listening to local people so we can act on their community safety concerns," commented Cllr Colin Lovell, Cabinet Member for a Safer Stronger Borough.
"We want to find out what we're getting right and where we can make improvements. Agencies will also be taking enforcement action throughout the week to ensure our neighbourhoods look safe, feel safe and are safe."