Date added: 21 November 2009
Hello Jenson?
Is the F1 champ heading for Swindon?
This time last year we ran the headline 'Bye, Bye Button', after Honda pulled out of Formula One.
But if rumours are true, then newly-crowned F1 champ Jenson Button could be heading back to north Wiltshire to buy Robbie Williams' house in Compton Bassett.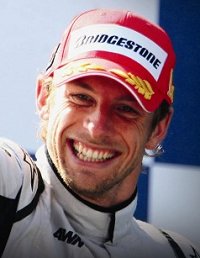 Jenson Button celebrating
According to The Sun newspaper, the 29-year-old is in pole position to pay £6 million-plus for the mansion Williams bought just 12 months ago.
The pop star preferring the hotter climes of California than Swindon (and can we blame him), despite building a quad-bike racetrack in the his back garden and enjoying a spot of poker at the nearby Premier Club in Stratton.
Whether Button can put up with the signs directing people to his previous employer at Honda as he approaches junction 15 of the M4 we don't know.
It might just be the ban on speed cameras in Swindon that's clinched his interest.
It's The Eboladome!
And it's in Swindon! New Grand Tour test track gets the Clarkson treatment...

21 November 2016

Bye bye Button
No more F1 thrills and spills in Swindon, then eh?...

05 December 2008

Madonna in Swindon!
The story of the queen of pop, a paella dish and a surprise visit to Old Town...

15 August 2008