Date added: 12 August 2007
Wroughton Classic Car and Bike Show 2007
The Science Museum Swindon provided the perfect location for the Wroughton Classic Car and Bike Show this weekend

Motoring enthusiasts of all ages taking advantage of two of the sunniest days this summer to enjoy a vast array of four-wheel and two-wheel exhibits from around the world.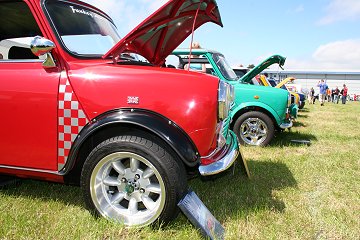 Mini marvel:
just some of the cars on display at the
Science Museum in Swindon

Over six hundred vehicles were featured including vintage models, sports prototypes, American muscle cars and more recognisable marques such as classic Capris, E-Type Jaguars, Renaults and Rolls Royce.
All major manufacturers were represented in some shape or form including Mercedes, Triumph, BMW, Jaguar, Ferrari and Ford.

Visitors were also given the chance to take a tour of the Science Museum Swindon's vast hangars housing aircraft and other artefacts, as well be entertained by a series of family science shows.

Highlight for many was also the visit of TV show Scrapheap Challenge, who filmed an episode featuring juice-free drag racing in a head-to-head sprint along the Museum runways.

Wroughton Classic Car and Bike Show 2007 - 04/08/2007
Planes, Trains & Automobiles
How Swindon helped pioneer some of the most incredible aircraft ever built incl. Spitfires, Swifts & Concorde...