Date added: 08 January 2009
Duo completes the team
Gathercole and Sweetman complete Swindon's 2009 squad

The Australian duo of Cory Gathercole and Richard Sweetman complete Swindon's squad for the 2009 season.

Gathercole slots into the Robins' side as a doubling up rider alongside American Ryan Fisher, whilst Sweetman will occupy the number eight position.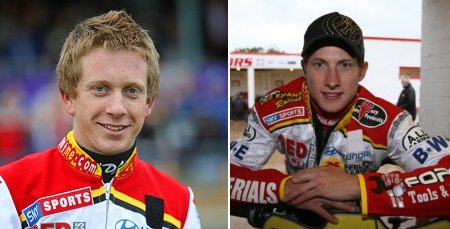 Richard Sweetman (l) and Cory Gathercole the final two to complete the 2009 Swindon Speedway team
Both Gathercole and Sweetman will combine their Elite league duties with full time berths in the Premier league at Somerset and Birmingham respectively.
The inclusion of two means Swindon's 2009 squad includes five Australian riders.
"Both Cory and Richard are young talented riders who are full of ability." said Swindon team manager Alun Rossiter.
"The club fully believe in them and we're delighted to offer them the opportunity to become members of our 2009 squad.
"Cory and Richard look to have exciting futures in the sport and I'll be hoping to see progress from them both at both Elite and Premier levels next season."
Meet the riders
Swindon Speedway riders on hand to meet and greet...

09 March 2009