Date added: 16 March 2009
Adams leads from the front
Swindon Speedway captain triumphs at sixtieth anniversary celebration

Swindon captain Leigh Adams reigned victorious in last night's sixtieth anniversary celebration meeting in front of a bumper Blunsdon crowd.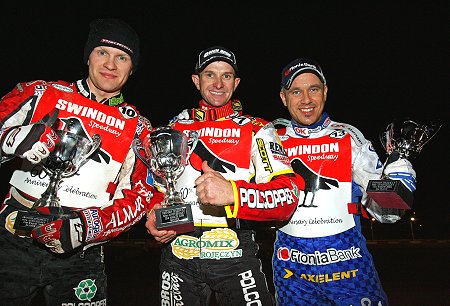 The perfect start to the season:
Leigh Adams takes victory at the sixtieth anniversary celebration (c) with Kryzstof Kasprzak taking second
(l) and Nicki Pedersen third (r)
Adams notched fourteen points from his five qualifying rides, eased through his semi final and rode a tremendous concluding race to clinch victory.

Talented Polish youngster Kryzstof Kasprzak finished an impressive second whilst current World Champion Nicki Pedersen clinched third spot.
Swindon Speedway, 60th Anniversary Celebration.
Sunday 15th March, 6pm.
1. Leigh Adams
2. Kryzstof Kasprzak
3. Nicki Pedersen
4. Antonio Lindback

Charlie Gjedde 1 2 1 0 R - 4
Nicola Klindt 2 0 1 1 1 - 5
Jurica Pavlic 0 1 0 0 0 - 1
Chris Harris 3 2 R 0 3 - 8
James Wright 1 1 0 11 4
Niels Kristian Iversen 0 3 3 1 2 - 9
Leigh Adams 3 2 3 3 3 - 14
Chris Holder 2 0 2 2 1 - 7
Kenneth Bjerre 2 R 1 2 2 - 7
Kryzstof Kasprzak 1 1 1 3 2 - 8
Ryan Fisher 0 R F R R - 0
Lee Richardson 3 1 2 2 1 - 9
Nicki Pedersen 2 3 2 3 3 - 13
Simon Stead 1 2 3 1 2 - 9
Antonio Lindback 3 3 3 3 3 - 15
Mads Korneliussen 0 3 2 2 0 - 7
Referee: Mr M Posslewhite
Swindon Speedway 60th Anniversary Celebration Picture Gallery