Date added: 02 April 2009
Swindon Robins 49 Eastbourne Eagles 41
Swindon take victory over Eastbourne and collect three Elite league points
Swindon's 2009 home Elite league campaign got underway in perfect style last night, as the Robins collected all three available points against a dynamic Eastbourne septet.

On a superb night of Abbey Stadium racing the Robins trailed in the early stages and didn't gain the ascendancy until heat nine.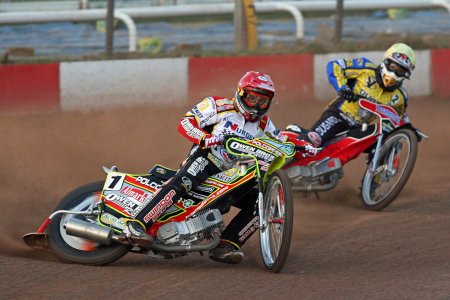 Leigh Adams against David Norris in heat one of the Elite League

Indeed, Eastbourne's array of youth and experience held firm in the first half of the contest but a barrage of Swindon pressure did eventually prevail.

A heat nine 5-1 from Simon Stead and Jurica Pavlic provided Swindon with impetus and further race advantages in heats eleven, thirteen and fifteen proved enough for Alun Rossiter's side to secure victory.

A majestically acquired paid fifteen point maximum from Swindon Captain Leigh Adams provided the Robins with a strong platform on which to prosper and the Australian received solid support from compatriot Troy Batchelor.

The young Queenslander scooped an impressive thirteen point score and was deservedly awarded the man of the match award.
Batchelor romped to four successive heat victories in his programmed rides and was only denied a maximum in heat fifteen by Eastbourne's exciting heat leader, Lewis Bridger.

A nine point contribution from the tenacious Simon Stead and an important paid eight score from Jurica Pavlic provided Swindon with crucial strength in depth whilst Travis McGowan's four point haul included a heat eight race win.

It did however prove to be a tricky night for the Swindon reserve pairing of Kryzsztof Stojanowski and Cory Gathercole, both of whom, despite exuding bundles of tenacity, we're unable to make a serious impression on the Swindon score chart.

The three league points obtained means the Robins now assume top spot in the Sky Sports Elite League at this early stage of the season.
Swindon v Eastborne Picture Gallery

Swindon v Eastborne - 02/04/2009