Date added: 10 April 2009
Swindon 56 Coventry 39
An easy win for the Robins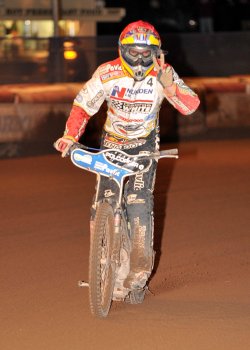 On the night it was confirmed that Troy Batchelor will join Swindon as a full asset in the near future, the Robins collected a comprehensive seventeen point victory over an in form Coventry septet on a night of terrific Abbey Stadium action.

The Robins led throughout and successfully repelled two tactical rider from the Bees who were hampered by the early withdrawal of Oliver Allen.
The British rider collided with Swindonís Jurica Pavlic in heat three and suffered a shoulder injury in what was a nasty looking second bend fall.

Swindonís hefty seventeen point margin of victory wasnít reflective of the quality of racing on offer as the revamped Blunsdon circuit continued to impress by providing an array of differing racing lines.

The Robinsí score chart was topped by a characteristically tenacious performance from Ryan Fisher who continued his superb start to the 2009 campaign by conjuring a thoroughly impressive paid thirteen point contribution.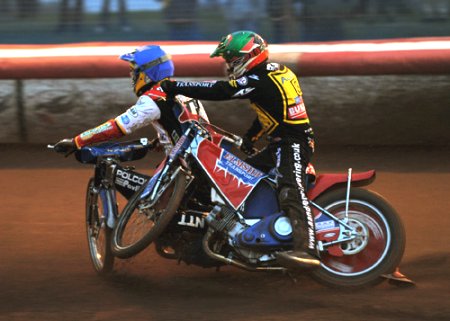 Jurica Pavlic contributed a superb eleven point score and the talented Croatian sent the Blunsdon crowd into raptures with a heat fourteen, fourth lap, double back straight pass on the opposition pairing of Edward Kennett and Jordan Frampton.

Pavlicís memorable move saw the youngster sniff out an unorthodox route through the centre of the Coventry duo after stalking them intently for three laps. His audacious manoeuvre coaxed the legendary Blunsdon roar from the Abbey Stadium terraces.