Date added: 20 April 2009
Swindon 53 Peterborough 40
The Robins take a comfortable 13 point victory

Leigh Adams continued to re-write the record books, when he became the first rider in British speedway history to reach the landmark of 10,000 points in official competitions.
The Robins collected another 3 league points courtesy of a 53-40 success over a lively Peterborough outfit at the Abbey.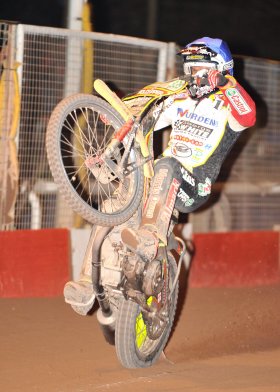 Leigh Adams first rider in British
speedway history to reach the
landmark of 10,000 points
Played out in front of the Sky Sports cameras, Adams showed sensational form to head his side's scoring on 14 points, his tally including a monumental heat six victory that saw him stalk Niels-Kristian Iversen for almost the entire race, before brilliantly cutting inside exiting the final bend and narrowly winning the drive to the line.
On a night of fast paced Blunsdon action the Robins continued their solid start to the 2009 campaign with a well deserved thirteen point victory over Peterborough.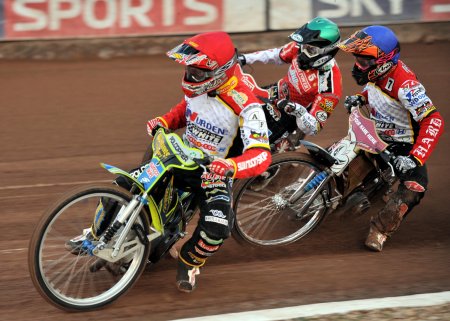 Leigh Adams' fourteen point haul topped the Swindon score chart and the Australian received strong support from Troy Batchelor and Ryan Fisher, both of whom contributed paid ten point hauls.

A paid six contribution from the tenacious Krzysztof Stojanowski also proved popular and the Pole notched a paid win in his opening heat.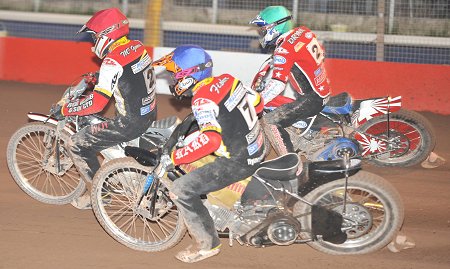 Peterborough were well served by their exciting Danish duo of Niels Kristian Iversen and Mads Korneliussen. Not surprisingly, the latter showed plenty of Blunsdon track craft as he registered a paid thirteen point score.

Adams collected a comprehensive heat fifteen victory as Troy Batchelor successfully kept Kenneth Bjerre at bay to register a Swindon 4-2.

It concluded a good night for Swindon who will be hoping to continue their strong start to the season on Thursday evening when Alun Rossiter's side travel to Coventry's Brandon stadium for a re-arranged Sky Sports Elite League A meeting.
Sky Sports Elite League 'A'
Swindon Robins 53 Peterborough Panthers 40

Swindon
1. Leigh Adams 3 3 3 2 3 - - 14
2. Travis McGowan 1 0 3 0 - - - 4
3. Jurica Pavlic 3 1 2 1 - - - 7
4. Simon Stead 0 3 1* 2 - - - 6 (1)
5. Troy Batchelor 3 1 3 1* 1 - - 9 (1)
6. Krzysztof Stojanowski 2* 0 1 1* - - - 4 (2)
7. Ryan Fisher 3 1 2* 3 - - - 9 (1)
Team Manager: Alun Rossiter
Peterborough

1. Kenneth Bjerre 2 2 2 0 - - - 6
2. Ales Dryml 0 0 1 0 - - - 1
3. Karol Zabik 1* 2* 2 2 - - - 7 (2)
4. Mads Korneliussen 2 6! 1* 3 0 - - 12 (1)
5. Niels Kristian Iversen 2 2 3 3 2 - - 12
6. Andrew Tully F 1 0 - - - - 1(1)
7 Kenneth Hansen 1 0 0 0 0 - - 1
Team Manager: Trevor & Wayne Swales
Referee: Mr P Griffin