Date added: 08 May 2009
Swindon 56 Poole 39
The Robins are back at the top of the table

Swindon roared back to the top of the Sky Sports Elite League table after registering a 17-point victory against Poole.

A paid 13-point tally from Simon Stead topped the Robins' score-chart and the British rider received solid support from Leigh Adams, who notched a paid 12-point maximum.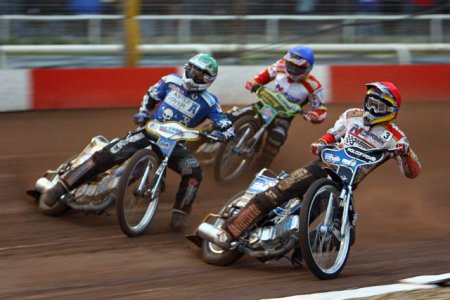 Amazingly, that was the 108th unbeaten total (50 full and 58 paid) in Adams' glittering career with the Robins, which now stretches to 483 appearances in all competitions.


Travis McGowan also enjoyed a productive night and contributed a well-acquired paid 12 points from a five ride schedule.
On an eventful night of action at the Abbey Stadium, the Robins regained top spot in the Sky Sports Elite League courtesy of a comprehensive success over reigning Champions Poole.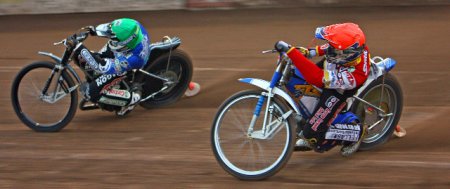 Rain fell intermittently throughout the meeting, although the Blunsdon track surface held up well despite the testing conditions.

Poole made a decent start to the encounter, but the Robins gathered momentum at the mid-way stage and limited the effectiveness of Poole's two tactical rides.

A scintillating heat fifteen ride saw Stead brilliantly forge routes past both Pedersen and Holder to collect a popular victory.

It concluded another good night for Swindon, who now nurture a 2-point advantage at the head of the Sky Sports Elite League table.
Sky Sports Elite League 'A'
Swindon Robins 56 Poole Pirates 39
Swindon
Leigh Adams (C) 3 2* 2* 3 - - - 10 (2)
Travis McGowan 2* 3 3 3 0 - - 11 (1)
Jurica Pavlic 0 3 1* 3 - - - 7 (1)
Troy Batchelor 2 1 2 3 - - - 8
Simon Stead 2 3 2 2* 3 - - 12 (1)
Krzysztof Stojanowski D 2* 1* 2* - - - 5 (3)
Ryan Fisher D 1* 2* F - - - 3 (2)
Team manager: Alun Rossiter
Poole
Bjarne Pedersen (C) R 2 6 1 1* - - 10 (1)
Ales Dryml 1 3 0 1 0 - - 5
Joe Screen R/R
Daniel Davidsson 1 R 0 1* R - - 2 (1)
Chris Holder 3 1 6 1 R 2 - 13
Tomasz Piszcz 3 R 0 T - - - 3
Paul Hurry 2* 0 1 0 2 1 - 6 (1)
Team manager: Neil Middleditch
Referee: Dave Robinson

Swindon Robins v Poole Pirates - 08/05/2009