Date added: 27 May 2009
Peterborough 46 Swindon 44
The Robins take the Panthers to a last heat decider
Swindon gleaned one Elite league point from Cambridgeshire and took the meeting to a tense last heat decider.

On a grippy race surface, the Robins' trailed by six points after race thirteen, but a penultimate race 5-1 propelled them back into contention to grab an overall victory.

However, a concluding race 3-3 saw Peterborough maintain their slender advantage and register a 46-44 overall victory.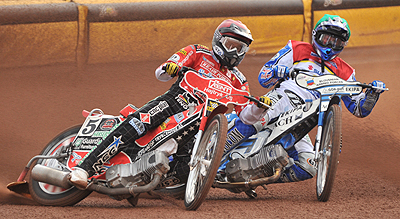 Swindon Robins take the Peterborough Panthers
to a last heat decider

Swindon contributed six of the meeting's heat winners, including a race victory for new singing Matej Zagar who amassed a paid seven score from a four ride schedule.

Elsewhere, Robins' Captain Leigh Adams contributed an even point haul whilst the in form Cory Gathercole continued his impressive scoring run with a well acquired paid ten.

The initial staging of heat eleven saw Panthers' reserve Claus Vissing excluded for a lap one fall. In the re-staging Peterborough heat leader Niels Iversen collected an impressive victory over Leigh Adams and Travis McGowan.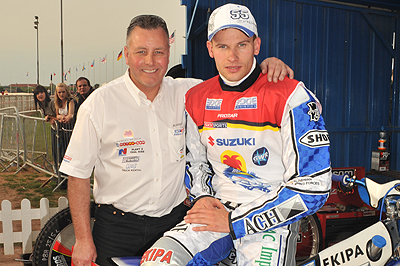 Slovenian Matej Zagar the temporary replacement for
the injured Troy Batchelor who sustained a broken
scaphoid on Thursday evening
Swindon fell six points behind as the home side registered successive 4-2 heat advantages in heats twelve and thirteen.
However, a crucial heat fourteen 5-1 from Simon Stead and Cory Gathercole narrowed Peterborough's lead to just two points.
Leigh Adams took victory in the concluding race but clever team riding from the Peterborough duo of Iversen and Bjerre limited the effectiveness of Jurica Pavlic who was unable to stamp his authority on the race.
The resultant 3-3 maintained Peterborough's two point margin and ensured both sides took Sky Sports Elite League points from the encounter.