Date added: 03 June 2009
Swindon take on Ipswich this Thursday
The Robins' take on the Witches at the Abbey Stadium

After Monday's impressive victory in Suffolk, Swindon will be hoping to secure three more Elite league points when the Ipswich Witches visit Blunsdon for the first time this season on Thursday, 4th June (7.30pm).

The Robins' currently lie second in the Sky Sports Elite League table having amassed thirty points from their fourteen league fixtures.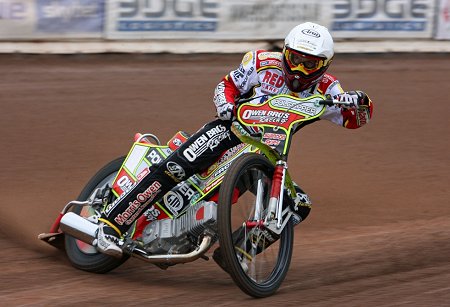 Swindon Robins' take on the Ipswich Witches this
Thursday (04 June 2009)

Meanwhile, Ipswich have secured fifteen points from their opening thirteen fixtures Captained by the experienced Leigh Lanham, Ipswich track a side with a strong Polish influence.

Ryan Fisher slots into the Robins' reserve department for the clash against Ipswich and the American will be hoping to continue his impressive run of form.

Travis McGowan moves back to the number two position whilst Simon Stead shuffles to four.

Ipswich are expected to be without their German youngster Tobias Kroner who suffered concussion after a frightening first bend fall in Monday's meeting against Swindon.

The Witches will operate the rider replacement facility for Kroner but elsewhere track an unchanged line up to Monday.