Date added: 26 June 2009
Swindon 54 - Coventry 39
The Robins take a fifteen point victory against the Bees

Headed by the sheer brilliance of paid maximum man Leigh Adams (14+1) and fast-paced Slovenian ace Matej Zagar (13+1), the Robins collected another 3 league points courtesy of a fine 54-39 success over Coventry at Blunsdon.
For Swindon's Captain Fantastic, it represented the 112th full-house of his remarkable career with the club, made up of 52 full and 60 paid tallies.

Roared on by a bumper Blunsdon attendance, Swindon collected a well deserved fifteen point victory over Coventry on a night of fast paced Abbey Stadium action.

On a glorious Wiltshire evening the Robins came under slight pressure in the opening stages but a strong latter sector saw Alun Rossiterís side secure all three Elite league points on offer.

Swindon finished strongly though with 5-1 race advantages through Adams and Zagar in two of the concluding three heats.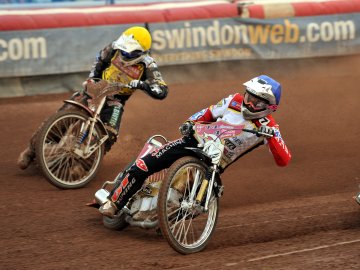 Ryan Fisher takes the in side track -
note the advertising in the background!

The World class duo treated the Blunsdon faithful to a master class in team riding and in doing so secured all three Elite league points for Swindon.
SWINDON
Leigh Adams (C) 3 3 3 2* 3 - - 14 (1)
Travis McGowan 1 1 3 1* 0 - - 6 (1)
Simon Stead 1 3 2 2 2 - - 10
Jurica Pavlic R/R
Matej Zagar 2 3 3 3 2* - - 13 (1)
Paul Hurry 2* D R 2* - - - 4 (2)
Ryan Fisher 3 R 2* D 1* 1* - - 7 (3)
Team manager: Alun Rossiter
COVENTRY
Scott Nicholls N 1 1 - - - - 2
Filip Sitera 2 1 2 0 - - - 5
Edward Kennett 2* 2 1* 6 - - - 11 (2)
Rory Schlein 3 1* 2 3 0 - - 9 (1)
Chris Harris (C) 3 2 3 0 1 - - 9
Richard Lawson D 0 0 0 - - - 0
Klaus Jakobsen 0 1 1 1* 0 - - 3 (1)
Team managers: Colin Pratt & Peter Oakes
Referee: Stuart Wilson