Date added: 31 August 2009
Swindon 55 - Poole 40
Swindon eased to a comprehensive 15-point victory against the Pirates

In front of the Sky Sportsí cameras and a bumper Abbey Stadium attendance, Swindon eased to a comprehensive 15-point victory against a Poole side whose advances were countered by an in-form Robinsí septet throughout.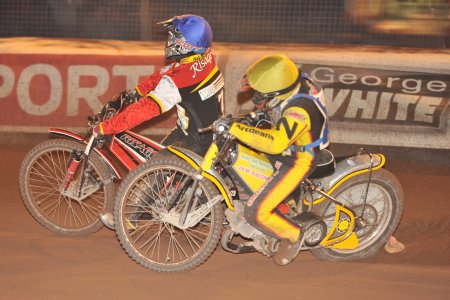 Morten Risager on the outside of Pirates Paul Fry

Swindon led from the outset and nurtured a 10-point lead after the opening four races. Tactical rides from Poole in heats five and nine did little to halt the momentum of the home side, as Alun Rossiterís side eventually constructed a comfortable margin of victory.

The Robinsí score-chart was headed by a well-acquired 13-point haul from Leigh Adams, whilst a lively-looking Simon Stead notched a paid 11-point haul. However, it was Swindonís all-round strength-in-depth that was most encouraging, though, as solid contributions from the whole squad provided the foundation for success.

A fitting finale saw Adams conjure a wonderful lap one, bend two cutback to roar underneath the Poole pairing and collect victory. It concluded a great night of work, not just for Adams but the table-topping Robinsí septet.