Date added: 18 March 2010
Bob Kilby Memorial meeting
A HOST of World class riders will compete - POSTPONED UNTIL SUNDAY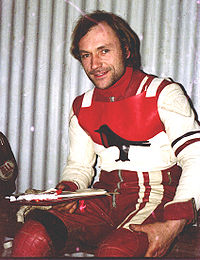 A host of World class riders will compete in tonight's Bob Kilby Memorial meeting at Swindon's Abbey Stadium..

The mouth watering line-up will see 2009 World Champion Jason Crump compete against three-times World Champion Nicki Pedersen, Russian hot-shot Emil Sayfutdinov and Robinsí skipper Leigh Adams.

The Bob Kilby memorial meeting raises the curtain on the 2010 speedway season at Blunsdon, and a bumper crowd is expected. A 23 heat, Grand Prix style format along with some top name riders means memorable opening night action is guaranteed.

Aside from the headline grabbing quartet of Crump, Pedersen, Sayfutdinov and Adams, there is plenty of International talent throughout the sixteen man field.

Hans Andersen, Freddie Lindgren, Chris Harris and Lee Richardson are joined by exciting youngsters Grzegorz Zengota and Thomas H. Jonasson.

"The assembled field is certainly a strong one and needless to say we're very excited about Thursday's Bob Kilby memorial," commented Swindon co-owner Gary Patchett said.
"It's great way to launch the 2010 speedway campaign at Blunsdon, and it promises to be a memorable night of action."

The event provides fans with a rare opportunity to see top-class riders like Emil Sayfutdinov, Nicki Pedersen and Jason Crump ride in this Country"

Full line-up for Thursday 18 March 2010, tapes up 7.30pm

Emil Sayfutdinov, Jason Crump, Leigh Adams, Nicki Pedersen, Lee Richardson, Freddie Lindgren, Simon Stead, Seb Ulamek, Hans Andersen, Steve Johnston, Mads Korneliussen, Morten Risager, Thomas Jonasson, Grzegorz Zengota, Chris Harris, Greg Walasek.

Meanwhile, off track, the hugely popular Malcolm Holloway will be inducted into the Swindon Speedway Legendsí Lounge.
The former Robinsí favourite who made his debut for the club at White City in 1977, will join the already inducted Ian Williams, George White, Bob Kilby, Martin Ashby, Steen Mastrup, Mike Keen, Barry Duke, Pete Munday, Mike Broadbank, David Ashby, Phil Crump, Norman Hunter, Barry Briggs and Ivor Atkinson.