Date added: 05 November 2007
Great news for the Robins
Leigh Adams is set to take the Speedway track by storm again next season, after the superstar Captain was re-signed – news which Robins fans have been eagerly awaiting.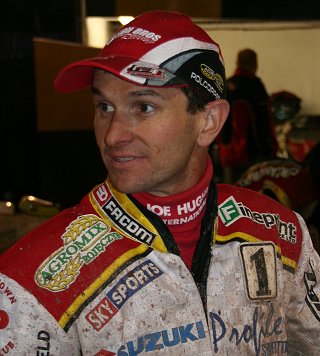 Leigh Adams: on track for a record year

The Aussie skipper has agreed to return for his fifth season in a row, accounting for his tenth year with the club since his debut in 1990.
News was given by gleaming team boss, Alun Rossiter.

He said: "This is a great start to our team building; we have got the man who finished right at the very top of the entire Elite League averages, and, of course, also scooped second place in the World Championship.

"Many other sides would love to have a rider of his calibre and I'm sure that there will be envious glances because he has decided to spend another year with the Robins."

Leigh's performance last season was second to none, with a staggering 608 points accrued for the team in 49 appearances.
He also managed to bag an amazing 18 maximums along the way, made up of 5 full and 13 paid full-houses.

With his career tally for the club standing at 5,030 from 432 appearances, the Aussie lies second in the all-time club records, and Martin Ashby's record of 5,476 looks firmly within his reach.

The future is looking bright for the Robins, and with this latest news, there's certainly a lot of energy pumping around the Robins camp.
Rossiter summed it up, saying: "Leigh is still going strong and I'm well chuffed that he will be leading the side again in 2008."
Mel Turner-Wright