Robins' signing puts them on the Wright track
Swindon speedway make their second signing
Speedway's Pit Team fan club were in for a surprise last night at their annual general meeting, as boss Alun Rossiter and co-owner Gary Patchett introduced their latest signing.

James Wright is the second signing for the 2008 season, following the exciting re-signing of Robins star Leigh Adams – much to the delight of dedicated fans.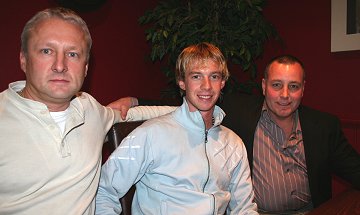 (l to r) Gary Patchett Swindon Speedway co-owner,
James Wright and Alun Rossiter
Swindon Speedway Manager

The twenty-one year-old, who spent the 2007 season with Workington in the Premier League, whilst also riding with Belle Vue in the top-flight, impressed Patchett after a superb victory in the PLRC at the Robins' track in September – a performance which fuelled the campaign to sign him.

After meetings with Wright's previous boss, Tony Mole, it was finally agreed that the Robins could have him on loan, with the possibility of buying him in the future.

And although Patchett would have preferred to see Wright become a fully-fledged Robin, he is optimistic that the future is going to bring success, as he begins the 2008 campaign on a 4.73 average.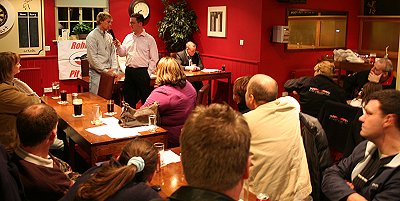 James Wright is unveiled at the White Heart in Stratton

Robins' boss, Alun Rossiter, said: "James has shown his ambition and will be moving up into the Elite League on a full-time basis with us, which I am absolutely delighted about.

"Naturally, he is bound to benefit from having Leigh Adams as his skipper and will undoubtedly learn a great deal from him. James knowledge of the smaller tracks will also be of great advantage to us in 2008."

Team bosses have also revealed that they might have snapped up a third signing for the 2008 season, although it's hush-hush at the moment! So keep clicking back to see the breaking news...
Mel Turner-Wright