Date added: 01 October 2007
Ultimate sting for the Swindon Robins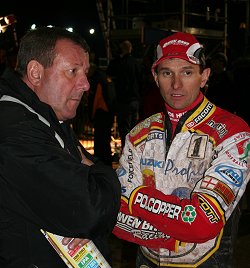 Gutted:


Robins promoter Terry Russell
Coventry 59 Swindon 34
Swindon's dream of Elite League glory turned into a nightmare tonight.
The Robins were soundly beaten by a dominant Coventry team in the second leg of the Grand Final to lose on aggregate 102-83.
Swindon's six point advantage from the first leg quickly wiped out as early as heat four as Alun Rossiter's riders failed to get to grips with the Coventry track.
Leigh Adams, the only team member who took the fight to the Bees, but even his determined efforts were in vein.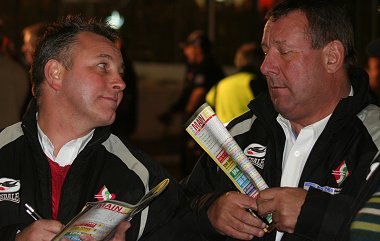 ROBINS' RETREAT
Alun Rossiter, Terry Russell and Leigh Adams
after Swindon's defeat in the Elite League Grand Final

A meeting-ending injury to Lee Richardson, who crashed in heat seven, further compounding the Robins' misery.

The disappointing night summed up by Robins' promoter Terry Russell who said: "We just never got going."

"Everyone's really down, as you would expect. We under performed tonight and everyone knows that. We were well beaten by a far better team on the night. And congratulations to them."


Maybe next year?:


dejected Robins' fans at the end of the Grand Final

A despondent Leigh Adams adding: "To come this far and ride like we did tonight is a massive blow to me personally."

"It's not the way I wanted to end the season, that's for sure."