Date added: 13 March 2007
Robins rev up for a new season
With a deafening roar, it was officially full speed ahead for the Swindon Robins speedway team yesterday.

Captain Leigh Adams leading his riders around the Abbey Stadium to blow away the winter cobwebs at the club's Press and Practice day, the precursor to the 56th successive season of Swindon Speedway - and, hopefully, the end to 40 years of hurt.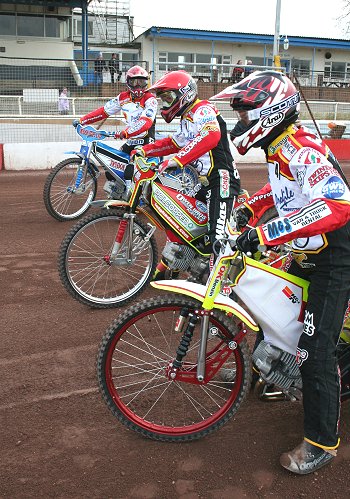 Raring to go:


the Robins warm up at the Abbey Stadium
yesterday for the launch of the 2007 season

Third in the Elite League last year, the bookies have already made the Robins favourite to be champions this time around - a title they haven't won since 1967.

"It has been a long time," agreed Alun Rossiter, Team Manager, "and I can guarantee we'll all be making maximum effort to improve on last year and win the title.

"I think we've got a terrific line up. We've got the strength and the passion for it - and some great support from the fans.

"If everything comes together, crossed fingers, who knows?"



The Swindon riders meet their first challenge this Thursday at the Abbey Stadium when they come face-to-face with local rivals the Reading Bulldogs in the opening fixture of the Elite League 2007.

A meeting that signifies a significant milestone for Robins star Charlie Gjedde, who will be competing in for the 200th time for Swindon in all competitions.

"It's going to a great opening match," said Dane told us, "and it will be an achievemnet in itself if we beat them, as Reading came so close to glory last season."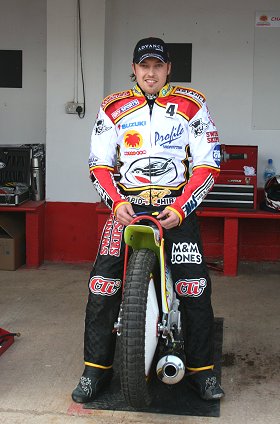 Swindon's Great Dane:
Charlie Geddes

And there to cheer the boys on will be ex-riders George White and the 'Red Devil' himself Mike Broadbank, captain of the team the last time Swindon Speedway were crowned top flight champions in 1967.

"Swindon can definitely do it," said the former world number eight, Broadbank.

"They all have the individual qualities to make it happen. Barring injuries they have a great chance.

And no one will cheer more than me if we they do win it!"

Robins rev up for a new season - 13/03/2007